Rising's New HQ – A Reflection of Then vs Now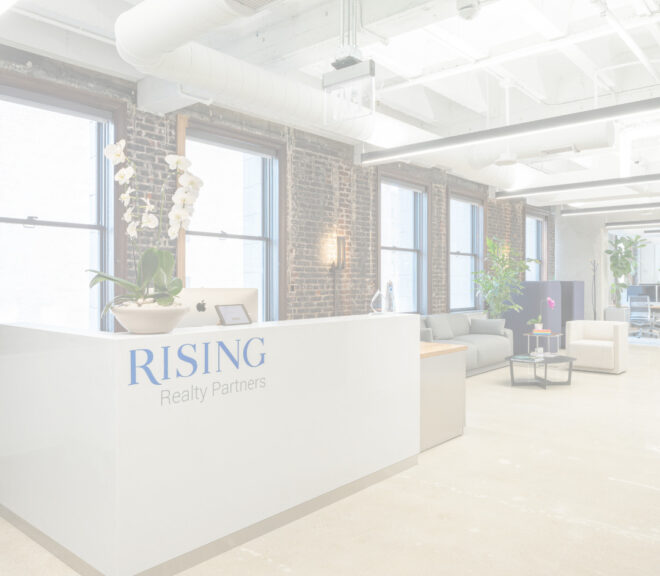 Rising Realty Partners reflects on their four-month remote working experience during the transition to their new office space at The Trust Building, emphasizing the importance of a physical workplace for effective collaboration, communication, and team dynamics, as they embrace a team-oriented seating arrangement and additional private meeting rooms in the new location.
Well, we just finished four months of full scale corporate remote working and let me say, it wasn't all that we thought it would be. For background, we have been completing the renovation of the The Trust Building and tried to time our move from our signature project, PacMutual, to our new home at 433 S. Spring Street so that we would have a few weeks of remote work set ups at our other projects in combination with encouraging remote work solutions so that the company could continue operating efficiently without having to execute two major moves.
Although this new location isn't far from our previous one, moving an entire office, especially in the piecemeal fashion in which our timing forced us to do it, was no easy task. I want to express my appreciation to our entire team for being flexible during this transition. We think our new space supports who we are today, what we've grown into as a company and the direction we're headed in as we continue to develop further in the coming years. We also think comparing our first office to this new office is a reflection of how "creative office", or what I like to call "lifestyle office", has evolved just in the last 7 years.
One of the primary lessons we learned during this four month remote working experience is that corporations are made of people not just "employees". It sounds like an obvious statement, especially one from a company that cares deeply about culture. Successful corporations have people who work on great teams. Great teams work together, communicate effectively and genuinely respect each other. Our experience showed us that to consistently have a great team, you need a place to see each other, to talk and to laugh, on a consistent basis. Staring at a floor plan and having x's and o's for where people will sit in four different offices really dehumanized the creative process for our team. Thinking that people will naturally work hard to create creative collisions even though they are not in the same physical space turned out to be a bit naive.
Rising was founded with an entrepreneurial mindset/spirit at its core. Everyone here is encouraged to embrace an appetite for enterprise and strong sense of initiative. In keeping with that kind of business culture, we embraced the creative office movement from the beginning. When we started in 2011, we adopted the open office concept. We paved the way for "creative collisions" with the open floor plan with no dedicated one-person offices. These casual areas were a place where ideas could flow freely and overheard conversations led to increased collaboration, innovation and action. We've always believed that work should be productive and fun and this openness was a natural fit for our company culture.
Along the way, we tried implementing different policies to help curb distractions and preserve privacy, a common issue that most open-space floor plans deal with. Some of these were instant hits while others didn't quite resonate with the team. The headphones policy was one strategy that emerged successful. Wearing headphones was a silent code for "I can't talk right now" while no headphone meant someone was available. The rule aided in blocking out unnecessary distractions and disruptions during the workday. Another winning idea was using Google Calendar to reserve conference rooms whereas the "sit-anywhere" policy didn't quite catch on. From an early stage, team members began choosing the same spot to work from each day. In other words, sitting at different areas of the office every day or week was not happening. We truly are creatures of habit!
Our first office featured two large conference rooms, one 2-person meeting room, two 1-person call-rooms, and two 1-person call pods from Framery. We quickly realized that our team was having far more 2-5 person meetings and we didn't have quite enough spaces to accommodate those meetings, especially if they were happening simultaneously. This drove our decision to build out more private "huddle" rooms for team meetings, conference calls or collaboration sessions behind closed doors and individual phone booths for one-person calls in the new office.
Instead of a "sit-anywhere" policy featured at Rising's previous office, Rising's new workplace has a strategically organized team-oriented seating arrangement. Additionally, employees are able to store personal items safely in lockers to help reduce desk clutter. An outdoor patio equipped with WiFi and an elevated paver system will allow teamwork to extend beyond the indoor office and provide a mood-boosting escape.
Every business has particular needs and we are confident that The Trust Building will thoroughly fill ours. We suspect this new space will foster happiness, healthiness and productiveness. And we are excited to see how it all evolves.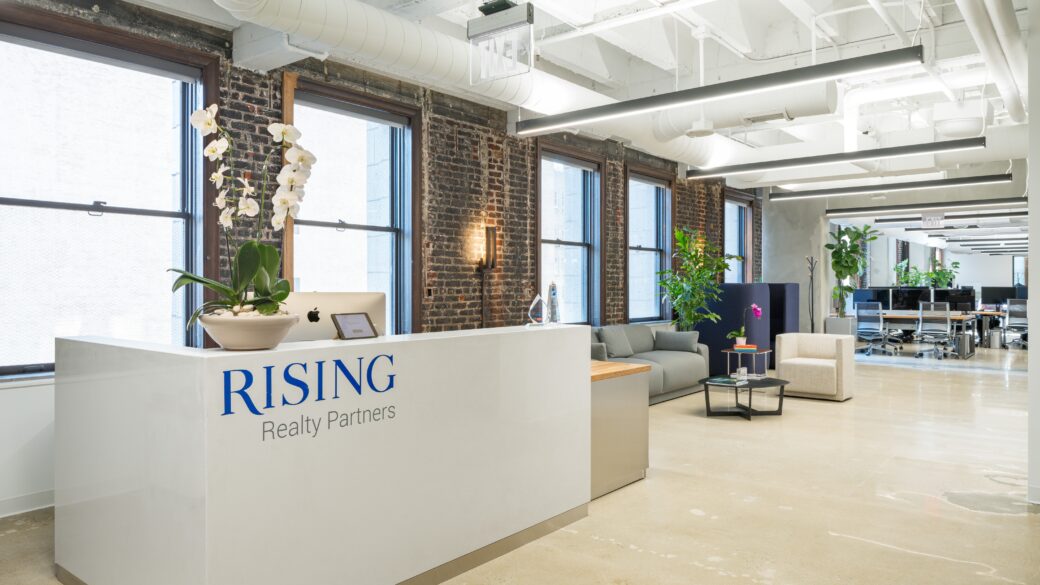 Sep 21, 2023
Rising Realty Partners acquires Northport Industrial Center, expanding its footprint in the Las Vegas market. Building on RRP's nearby asset, the 127,312 square foot acquisition is the eighth MTLI property added to the company's portfolio.
Aug 08, 2023
Rising Realty Partners announced today that it has partnered with a global manager of alternative investments to acquire Blossom Business Park, a multi-tenant industrial park in San Antonio, Texas. The property is RRP's second light industrial acquisition in Texas and the largest industrial property within the company's portfolio.
Jul 24, 2023
Rising Realty Partners, named one of the Best Places to Work SoCal by Best Companies Group, is recognized based on an analysis of survey responses about corporate culture, training & development, salary & benefits, and overall employee satisfaction.