Historic Los Angeles Art Deco building wins USGBC sustainability award for preserving over 95% during its renovation process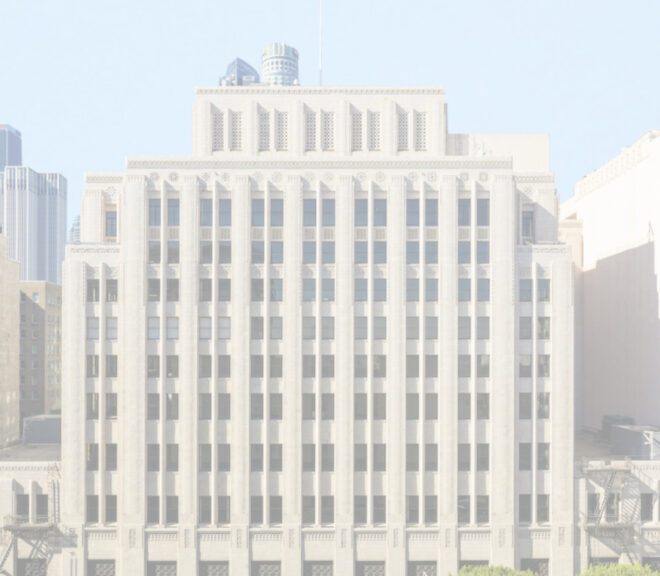 The Trust Building in downtown Los Angeles, redeveloped by Rising Realty Partners in collaboration with an interdisciplinary team, has been recognized with the 2021 Sustainable Innovation Award from USGBC in the Zero Waste and Circular Solutions category.
LOS ANGELES, CALIFORNIA– December 16, 2021 – The historic Trust Building in downtown Los Angeles has won USGBC's 2021 Sustainable Innovation Award in the Zero Waste and Circular Solutions category. Rising Realty Partners purchased and redeveloped this building with an interdisciplinary team involving ARG, Gensler, Morley Builders, and Gaia–a high-performance building consulting firm, helping the building achieve LEED Gold certification.
The Trust Building's renovation process preserved over 95% of the historical Art Deco masterpiece while holding the embodied carbon, giving it a second life. According to McKinsey and Company, embodied carbon is a significant percentage of global emissions and requires urgent action to address it because it contains "all the greenhouse gas emissions associated with building construction, including those that arise from extracting, transporting, manufacturing, and installing building materials on-site, as well as the operational and end-of-life emissions associated with those materials."
Read More: https://www.linkedin.com/pulse/historic-los-angeles-art-deco-building-wins-usgbc-sustainability-/
Sep 21, 2023
Rising Realty Partners acquires Northport Industrial Center, expanding its footprint in the Las Vegas market. Building on RRP's nearby asset, the 127,312 square foot acquisition is the eighth MTLI property added to the company's portfolio.
Aug 08, 2023
Rising Realty Partners announced today that it has partnered with a global manager of alternative investments to acquire Blossom Business Park, a multi-tenant industrial park in San Antonio, Texas. The property is RRP's second light industrial acquisition in Texas and the largest industrial property within the company's portfolio.
Jul 24, 2023
Rising Realty Partners, named one of the Best Places to Work SoCal by Best Companies Group, is recognized based on an analysis of survey responses about corporate culture, training & development, salary & benefits, and overall employee satisfaction.