Historic Los Angeles Art Deco building wins USGBC sustainability award for preserving over 95% during its renovation process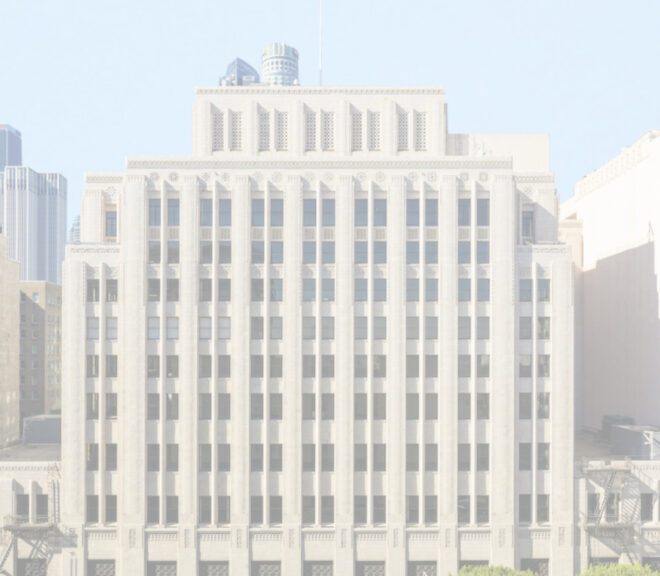 The Trust Building in downtown Los Angeles, redeveloped by Rising Realty Partners in collaboration with an interdisciplinary team, has been recognized with the 2021 Sustainable Innovation Award from USGBC in the Zero Waste and Circular Solutions category.
LOS ANGELES, CALIFORNIA– December 16, 2021 – The historic Trust Building in downtown Los Angeles has won USGBC's 2021 Sustainable Innovation Award in the Zero Waste and Circular Solutions category. Rising Realty Partners purchased and redeveloped this building with an interdisciplinary team involving ARG, Gensler, Morley Builders, and Gaia–a high-performance building consulting firm, helping the building achieve LEED Gold certification.
The Trust Building's renovation process preserved over 95% of the historical Art Deco masterpiece while holding the embodied carbon, giving it a second life. According to McKinsey and Company, embodied carbon is a significant percentage of global emissions and requires urgent action to address it because it contains "all the greenhouse gas emissions associated with building construction, including those that arise from extracting, transporting, manufacturing, and installing building materials on-site, as well as the operational and end-of-life emissions associated with those materials."
Read More: https://www.linkedin.com/pulse/historic-los-angeles-art-deco-building-wins-usgbc-sustainability-/
Mar 22, 2023
Rising announced today that it has partnered with a fund managed by DRA Advisors LLC to acquire Mercantile Industrial Park, a multi-tenant industrial park located at 2501, 2529, 2539 and 2640 Mercantile Drive in Rancho Cordova, California, a suburb of Sacramento. The property is RRP's third light industrial acquisition in the Sacramento area in the past year.
Feb 10, 2023
Nelson C. Rising, Real Estate Developer and Political Insider Who Helped Shape California Cities, Dies at Age 81
Jan 12, 2023
The Los Angeles Business Journal's special edition of The Lists 2023 features prominent Los Angeles executives, including Chris Rising, highlighting their contributions to the city's economy. With a weekly circulation of 24,000 and over 40,000 unique website visitors, the publication provides valuable industry-specific information and rankings for companies shaping the Los Angeles economy, showcasing a bright future for the city as a multicultural and diverse hub for arts and culinary experiences.