The Real Market with Chris Rising – Ep. 81 Andrew Bermudez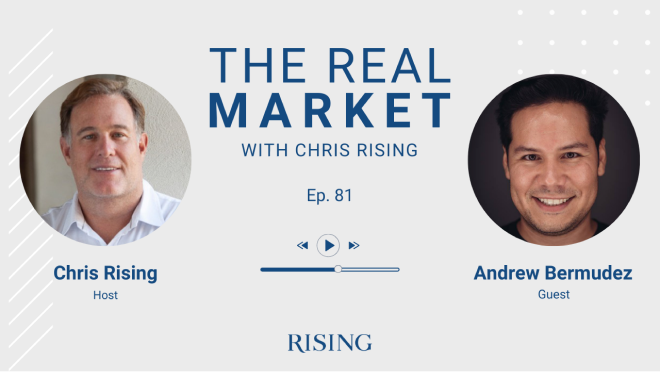 Introducing Andrew Bermudez, the CEO & Co-Founder of Digsy. With a strong background in brokerage sales and a passion for commercial real estate, technology, and innovation, Andrew has emerged as a prominent figure in the commercial real estate technology industry. His journey began in Guayaquil, Ecuador, and led him to the United States, where he taught himself coding and web design in high school. Andrew's desire to enhance his social skills brought him to commercial real estate leasing and sales at Lee & Associates, where he quickly recognized the need for more efficient lead generation and marketing systems. This led him to develop cutting-edge software that generated leads, marketed listings, and propelled his sales production to new heights. As the Vice President and later Senior Vice President at Lee & Associates, Andrew continued to refine his marketing and sales automation technologies. Recognizing the potential to revolutionize the industry, he co-founded Digsy, Inc., alongside talented individuals with impressive backgrounds in programming and software engineering. Backed by influential investors from Zillow, LoopNet, and Apple, among others, Andrew and his team have built Digsy into a platform that empowers commercial real estate professionals to market properties, outsource tasks, and streamline their workflow. Discover more about Andrew's journey and the innovative solutions offered by Digsy at www.getdigsy.com.
Speaker 1 (00:00:02):
Welcome to The Real Market with Chris Rising, the only podcast that brings the real estate conference panel to your headphones. You'll hear from superstars from every realm of commercial real estate, the biggest brokers, the most well-known architects, the largest investors, and the most visionary developers. We'll learn what they do, how they do it, and what drives their success. We'll discuss the latest trends across regional markets, capital flows, both national and global. And we'll explore technology's role in shaping all of them. We'll take a clear-eyed look at where we've been, where we are now, and what's to come. Real conversations, real experts, real insights. This is the Real Market.
Chris Rising (00:00:50):
Welcome to The Real Market with Chris Rising. I'm excited to have Andrew Bermudez with me today. He's the co-founder and CEO of Digsy, someone who I've met. I got to tell this story before we start that you were an unbelievably persistent guy and said you had to meet me, had to meet me. And I tried to fend you off a little bit here and there and you came into my office and I was so impressed and you came in and said, "Look, I used to be a broker. I feel like the broker's industry is broken and I'm going to fix it." And that was our first meeting. I still remember over at PacMutual you coming into our conference room. So, welcome to the Real Market.
Andrew Bermudez (00:01:25):
Thanks, man. You know what was really cool about meeting you that day? I had done very little research as to who was in the building because I'm not a broker anymore and I did not know that Nasty Gal was in there. And Sophia Amoruso is such a legend, right?
Chris Rising (00:01:39):
Yes, she is.
Andrew Bermudez (00:01:40):
And I remember sitting in the elevator. I think I saw her walking down the hall and I was like, even though it's an entrepreneur, I was a little star. I'm like, that's that lady. And then, they made a TV show about her.
Chris Rising (00:01:51):
That's right. And she's had multiple lives since then. And I'm always impressed with her. When people ask me about people that I admire as entrepreneurs, I always put her up there. I'm a little bit older, but I still think that what she built out of nothing, and then what she continues to do is she reinvents herself. She's a real icon. I want my daughters and other young people I know out there to be like, that's someone you want to emulate if you want be an entrepreneur. She's really-
Andrew Bermudez (00:02:23):
She has that book, Girl Boss, and there's like a whole cult following against it. I guess it's not fair to call it cult, but she has some pretty good lessons because she's gone through a lot of hard things as an entrepreneur and she definitely shares a lot of things of value. That must have been pretty cool for you to have the message [inaudible 00:02:38]-
Chris Rising (00:02:37):
It was. I mean, when we sold the building, I just happened to see her in the elevator and she saw [inaudible 00:02:45], she was like, "Wow, I want to be in your business." And I looked at her and said, "But I want to be in your business."
Andrew Bermudez (00:02:51):
Yeah, right?
Chris Rising (00:02:52):
That was cool. That is great. Unfortunately, it's quite a few years ago, but you still look young. I'm getting old man. [inaudible 00:02:59].
Andrew Bermudez (00:02:58):
I'm 41 now, man. You know-
Chris Rising (00:03:02):
I'm older.
Andrew Bermudez (00:03:02):
Here's a funny thing, and I didn't know this was possible. So, I had a daughter 18 months ago. I think you and I chatted about that when we saw each other at CREI last year, which is a great conference by the way. And so because of the kid, you just don't have that much physical activity. I haven't been able to go to the gym, et cetera. Once a month, me and my really close friends get together. There are some entrepreneurs there and then just friends at college, et cetera. And we went bowling. This is on Wednesday of this past week. We went bowling, had a great time, had some drinks. The next day, I wake up and I'm like, "Did I sleep wrong?" Literally, my legs felt like I had gone to the gym and done leg day because they were just brutal. In fact, today, it's even worse than it was yesterday. And I'm just walking around saying, my wife's like, "What's wrong with you?" I'm like, "I think it's from bowling." And then one of the guys in the chat said that he was sore too. This is all from bowling. That's how old we're getting.
Chris Rising (00:03:57):
Well, I'll tell you, as my father likes to say, getting old isn't for sissies. You got to be tough.
Andrew Bermudez (00:04:04):
Good thing I drink coffee in the morning.
Chris Rising (00:04:06):
That's right, that's right. Well, I'm excited about this conversation. One, it's going to be pretty freewheeling, but let's start with giving a little bit for our audience at the Real Market about Digsy so they understand what it is that you do and how we all fit together.
Andrew Bermudez (00:04:23):
Yeah. So, a lot of the audience, members and people in the industry will remember Digsy as it's gone through its evolution. No startup company goes without pivots. Very lucky if you start with product market fit out of the gate. But to really encapsulate it, Digsy today is a one-stop shop for commercial real estate, online marketing, media and staffing. So what that means is basically, I have a central place where I can easily market my properties online free of charge. We don't charge you a cent. That way, when people are searching on Google, they can find your property and you don't have to pay extra dollars to get more exposure. You can also save time getting stunning nationwide photography, videos, virtual tours to attract, to put on your marketing materials to attract more tenants and investors, and also quickly hire prevetted and trained, especially trained virtual assistance who can help lease and sell more commercial real estate.
(00:05:19):
So, we do that for brokerages. We have the whole office or the whole company's our client for the various services and products. And then, we have individual brokers. And we have 100s of customers across CBRE, Cushman and Wakefield, Marcus & Millichap, SVN, Sperry, Colliers, independent boutiques, et cetera, et cetera. So, it's been a fun business to be able to provide free tools to market your properties online, but then obviously, if I'm getting an asset into Kentucky or I've just bought one, I can just go to Digsy and not have to go search for photographers, et cetera. We have the network and then the same thing with the virtual assistant that we know they're trained and prevetted by us and monitored by Digsy. So, it makes it a really one-stop shop to run and grow the business
Chris Rising (00:06:03):
What I think is really interesting about the business, I think those who know real estate are not surprised that an individual broker, no matter a third CB, JLL or a smaller independent shop is their own business. And I think a lot of brokers know that and people in real estate, but the people who are entrepreneurs probably don't get that, that you go to a big shop or a small shop, you're really an independent contractor. And if you're going to have an assistant, if you're going to have a younger broker, you're supporting that. That's why brokerage is so hard for a lot of people to get into. So, I think what's interesting about what you're bringing to people is that something that used to cost a physical person, which could be 50-100,000 dollars a year and now, they're getting the benefit of going to Digsy. But how do you make money?
Andrew Bermudez (00:06:50):
Yeah, it's pretty simple actually. So, software's cheap, right? What we had to do initially was to really get on the good graces of Google, do a lot of SEO, et cetera so that we can have value for the commercial real estate professionals, landlords, brokers, property managers, [inaudible 00:07:10] properties in Digsy. So, we achieve that. There is a margin whenever somebody comes to us and we have the local photographer go out there and shoot, whether it's the aerial photography with drone, or still photography for another building, or if it's a video, like a drone video with graphics, or if it's a 3D virtual tour using Matterport. Because we're bringing them so much business, they don't have to charge the prices that they normally do. So, what a photographer usually does is they maybe have… Wedding people can't do 50 weddings in a year. They can't. That's why they have to charge a lot, right? And it takes a lot of pictures to do that.
(00:07:48):
When you look at real estate, you have more people that will do 50, 100, maybe 200, but they always have to keep their prices up so that.. They don't know when their next gig's coming from. So with us, because we have all this clientele, every day, they're busy with us. So, that enables for them to just charge us an hourly price, and then what we're able to do is mark it up, but we still come anywhere between 30 to 50% lower than spending all the time and energy to go find somebody to shoot a 3D Matterport [inaudible 00:08:15] et cetera. And then, there's technology that we use in the background to do certain things. So, the client gets all those assets, etcetera. Now with the virtual assistance what we've done, and we can go into this when we talk a little bit more about trying to keep the culture without being in the office, what we found is that if we went to the Philippines, we could find talent.
(00:08:39):
Usually, you can hire somebody between 2 to $3 out there, but we went out and we started hiring people. We needed to find people who wanted to work US hours, so different time zones, Pacific, Eastern, Central, et cetera, but they had to have really good English, they had to have three to five years of experience. And one thing is we were… Initially, we were just hiring for Digsy because we couldn't find people because of COVID out here. The resumes were terrible and still, some of the resumes are terrible from what I hear from people. So, we decided to go out there and start with things like, okay, let's go find some [inaudible 00:09:10] marketers. And we were pretty surprised, so we went from one in one month to three and four and five, and then we found we can have account executives, and then we hired our graphics and marketing people in social media marketing.
(00:09:19):
And then, I had posted a video on LinkedIn that we had done this referring people, and then people started reaching out to me, individuals like yourself, Chris, saying, hey, I'm having the same problem. So people who are managing brokerages and individual brokers, we're not on that business. We did a test where we go, okay, look, we have three people in telemarketing, so cold calling and outbound. And we go, what if we do an experiment where we grab Kevin right here who's really good? He knows commercial real estate because he's talking to commercial real, we have to train him already. We just switched the script to call them building owners to see if they want to sell as an off market opportunity and see if it works, and then it worked, and then we had to figure out how to scale it. So that's a-
Chris Rising (00:09:59):
Wow.
Andrew Bermudez (00:10:00):
… [inaudible 00:10:00] spend two days on that. So essentially, what we've done is we're renting out our talent.
Chris Rising (00:10:05):
That's pretty-
Andrew Bermudez (00:10:05):
And then of course, you have the delta between what you charge, and so our prices start for most functions [inaudible 00:10:10] $12 an hour, but then the brokers don't have to train, write scripts, the brokerage offices don't have to train and show people how to put proposals together like, say, AIR leases or contracts depending on what state you're in. And then, we also monitor their communication and what's going in. But that person from Digsy, if they're working for Rising, for example, when they're emailing internally, et cetera, it'll say Rising except you don't have to pay for payroll taxes, you don't have to pay for FICA, you don't have to pay for benefits. Digsy takes care of that. And at the same time, you don't have to worry about managing them because our team internally is managing them internally. And it's worked out pretty well but it's definitely not a business we thought. And that's been taken off the past couple of years.
Chris Rising (00:10:54):
Well, what I find interesting is if you look at the real estate industry five years ago, let's not even say pre-COVID, five years ago, I think there was really credible statements that real estate was way behind on technology, way behind on how they thought about things, it was too white male dominated, it was all of those things. Over the last five years, I've seen a change [inaudible 00:11:18] that has been Expedia expedited by COVID. I find today, for the most part, brokers very technologically advanced. They're using Microsoft teams or they're using Google Workplace and they're using virtual assistance, but I think it's been a newer thing. Would you agree with that or do you think there's-
Andrew Bermudez (00:11:40):
Yes.
Chris Rising (00:11:41):
Okay. Because-
Andrew Bermudez (00:11:42):
It definitely accelerated. I mean, if you compare it… What were we going to say, Chris?
Chris Rising (00:11:47):
I was going to say, because I still think there's a group of brokers out there that print out their emails and print out leases to read, but that's a smaller and smaller group that more and more… I'm talking to young brokers who would use a Digsy and get a lot of benefit out of it, but I just wanted to get some confirmation of that. That was just a guess.
Andrew Bermudez (00:12:06):
So at the beginning, I was talking more with customers on the ground level customers and things like that, and I still have to do that. My goal is to talk to at least 10 customers, people who own the office, who manage an office for a big company, and then the individual broker. So, I spend time doing that on a weekly basis. The other thing too is my team, whether they're success managers in the media business or photography and things like that, et cetera [inaudible 00:12:31] get together and then we get to exchange stories. To back up, yes, it's been accelerated, but I think it's been accelerated the adoption of technology in commercial real estate about at least 30%, so what would've taken us to get, let's say, 7 or 10 years, now, it got compressed into three years, right? So, the thing… Well, actually, that's not 30%. But anyway, you catch my drift. The one thing though is if you still look at residential, the residential individuals are still leaps and bounds ahead of commercial real estate.
(00:13:02):
Now, one of our investors is on the board of Zillow, and some of our investors came from LoopNet, and some of my mentors came from that and other residential real estate technology companies, for example, Tom Ferry, the residential real estate coach as an investor in Digsy. He's also an investor in a lot of tech companies and you're probably in some investments with him. But even when I talked to him, even the residential individuals don't adopt technology, I'll tell you the interesting tidbit though and why I think we had to do so many pivots, and even though I had been a broker and understood the dynamics, in commercial real estate, you have the agent, right? So, let's just call them broker because that's what we use. Then you have the office itself, the brokerage. And then you have the property owner, whether it's a landlord or a seller. Now, the landlord or the seller wants all the best marketing et cetera, then they want the agent to pay for it. But if you're doing leasing, a lot of these leasing, unless it's a huge, huge space for multiple years, they're not making enough commission to go pay for the virtual tours and go adopt technology and doing all this stuff.
(00:14:06):
Second, it's not like a brokerage firm hires like 100 new agents a year. They don't. I mean, that same people that you're talking to in LA, you probably meet two or three or five people. And LA's huge. Out of all those offices, there's maybe 10 people that have been added, and then only two of those are going to stick around the next few years. So what I found out, I'm going… Long story short, commercial real estate, the way it operates and you have residential is residential are hiring machines. They don't care if you're the top broker, et cetera. They just want to get butts and seats because people aren't going to come into the office anyway and they're going to do everything possible. If you sell one house, great. 50% commission or 30% commission or 20% commission, that can be 10, 20 grand that I didn't have to pay for because you're 1099.
(00:14:54):
So what they do is the brokerages in residential, in order to compete, they've been signing up for all these tools to say, oh, but if you go with me at X, Y, Z commercial or X, Y, Z residential real estate, you get BoomTown, Zillow leads, at cetera, cetera. So, they have to compete for the talent. And there's a lot more talent in residential because it's so consumerized that everybody can do it. Whereas when you go in residential or commercial, there's only a few people that have that internal makeup to understand business, cold calling, marketing, et cetera. And at the same time, it takes so long because not everybody buys a building. Maybe for every 5,000 people that buy a home, maybe there's one person that can afford a building, right? So, you see that they just don't align, and that's what we've learned that's different is the brokerages and commercial [inaudible 00:15:46], but these people are, so they're motivated to buy tools. Here's the one thing that I was going to go back to adoption. You see in residential, yeah, you see more and more are using them, but at the end of the day when you look at them, they're not using them. The average age of a residential agent is like, I believe last time I checked was in the 60s, right?
Chris Rising (00:16:03):
Wow.
Andrew Bermudez (00:16:03):
I mean, yeah, [inaudible 00:16:05] has all these numbers. And then if you also look at commercial real estate, of course, there's some of us that are in our late 30s and 40s who are starting to take over, but you still have the individuals in their 50s and 60s. And 50 is young, but I would say 60. Some people still stay until they're 70s because they don't have to be deal junkies, but they just enjoy it. But we still have those people there. And even when I talk to the 30 and 40-year-olds in leadership positions at brokerages today, today, it's stark how many of them, aside from Zoom or aside from Microsoft teams, they don't even use their CRM, they don't use different tools, they don't do any social media marketing. I mean look at that, you're always on social media along with me. You're you doing a podcast et cetera. I'm seeing more of them but it's still [inaudible 00:16:53].
Chris Rising (00:16:52):
And we're religious about our CRM. I mean, there is not a conversation that happens in our company with equity or with brokers. It doesn't get cataloged in HubSpot. I mean , it doesn't surprise me but there's a lot of people older in the business who don't see any value in it. I mean, what we continue to say is what would a tech company do? If you work at Oracle, you would log everything you do. So, it surprises me that there's a group out there that isn't on board, but I guess they'll get aged out.
Andrew Bermudez (00:17:28):
But baby steps. Right now, we got them to use Zoom and Microsoft Teams. That's huge. That's huge.
Chris Rising (00:17:33):
Yeah. But I think if you're a 30-year-old broker in the business when you want to beat somebody using all this technology, it makes a huge difference. And I think Digsy adds a couple arrows in someone's quiver that their competitors don't have. So, I think it's terrific. I love the way you've evolved because it's different than the pitch from a few years ago, but it's also meeting a need. I mean, it's a real need. If you're a young broker, you can't afford to pay for a necessity [inaudible 00:18:05]. And the company, when I first started the business in the 90s, the assistant was vital and would serve one or two people, and then it started to go to one assistant for five or six people. Now, companies just say we're not going to pay for an assistant. So if you want one, you got to do it yourself.
Andrew Bermudez (00:18:20):
Yeah. And it's affordable. For example, you can get some of these virtual assistants in a part-time basis. And turnkey, already trained, et cetera, and we monitor, and we're there the whole step of the way because they work for Digsy, they're just branded under your brand. You can get them as low as 950 bucks a month. And then if you want full time, you can go all the way up to… It's under two grand. For other higher level roles like graphics, it'll be 15 bucks an hour. But also, the photography is big. Not every broker or even landlord will go out and get professional photographer for things. We see a lot more demand from investment brokers or institutional landlords like yourself that need to get great photos, stunning looking aerials, let's say, whether it's twilight, et cetera, and we're able to do all of this in a box where it's just so time-consuming.
(00:19:10):
And the worst thing is every time you go to a different market or even a different city and your person, your photographer that you know and trust doesn't go there or maybe that photographer doesn't do virtual tours, you're having to either you or your assistant go and try to find the people, look at their work, and then sign up with them, and pay higher prices, wait a long time. So, you do all that our orchestration, and then you get the work back and you go, this doesn't match what you had on your portfolio, so at least we provide convenience and simplicity and consistency.
Chris Rising (00:19:42):
Yeah, that's terrific. Well, let's talk about technology within the real estate community. I mean, what are the things outside of Zoom and maybe Microsoft teams that you're seeing that people are asking you about but you're not quite providing but you think there's a market for it? So, where could Digsy go if it's… I mean, is it sign companies? I'm just trying to think of some of the basic… I mean, is it CRM [inaudible 00:20:10] and things like that?
Andrew Bermudez (00:20:13):
It's interesting. I wish more people would ask us for stuff because at least you'd get to see a trend, but they tend to gravitate towards different things. What I'm seeing quietly being mentioned, and it's mainly because I saw that Melissa Alexander talked… I wasn't at CREI this year and neither were you, but Digsy-
Chris Rising (00:20:32):
Not because we don't love it. We got to give a big handout to [inaudible 00:20:36].
Andrew Bermudez (00:20:36):
Oh, they're awesome. No, we couldn't go. No, we couldn't go.
Chris Rising (00:20:38):
Yeah, we just couldn't go.
Andrew Bermudez (00:20:39):
That was it.
Chris Rising (00:20:39):
Yeah, yeah.
Andrew Bermudez (00:20:40):
Yeah, I'm bummed. I know you're bummed because we caught up before this, but she was talking about QR codes and how important it is. So, I think QR codes and signs and what people aren't talking about is also NFC. So a QR code, what's interesting is a QR code, here's how I see it, a QR code, you have to open up your camera and hopefully with people having to scan QR codes at restaurants be able to do that, but what I think it's even better is NFC tags, which cost a couple cents. If you put an NFC tag on the door of the suite, you can just tap your phone and it'll pop up and you can just tap it. A lot more user-friendly, and then we can link that person and say, okay, here's like the landing page for that suite, here's the brochure, here's the floor plan. There's also additional information you can capture with an NFC, which is really cool, but I think things like that. So, I'm starting to hear but very low, this is the bottom of the pyramid, I'm starting to hear QR codes and things like that to do that.
Chris Rising (00:21:37):
I think that's very real. I carry a LINQ card, L-I-N-Q card that is an NFC and has a QR code if you need it. And I don't carry business cards anymore. [inaudible 00:21:48]-
Andrew Bermudez (00:21:47):
I just started doing that too. Yeah, I just started doing that too.
Chris Rising (00:21:50):
Yeah, I just have someone's phone and my contact information goes in. And I think [inaudible 00:21:53]… That is something that most people wouldn't know where to find, so that makes a lot of sense to me that you do a tour and boom, you use an NFC [inaudible 00:22:03] all the information, a file on their phone now.
Andrew Bermudez (00:22:05):
It's so cool because a lot of the times when you tap, there's different things that you can use, like sensors, where, let's say, they tap into… And I haven't quite figured out the technology on this, but I know it's possible where, let's say, a tenant comes in and walks out of the elevator to go visit a customer or a perspective client and they see how this building's beautiful, let me tap the NFC, well, there's so much information that you can capture on that that it'd be interesting to see. Let's say, if they downloaded the app for some reason there was a motivation on there that you can actually pop a notification back to them going, hey, so saw that you tapped on this a couple days ago. Do you have any questions? And prompt them so they don't forget. So, there's a lot of cool things you can do, but the brokers aren't talking about that.
(00:22:49):
The one thing that I always get is about automation, and it's like how do… A lot of… And it's not because they don't have the technical chops. I mean, commercial real estate professionals run the gamut, but it's such a busy business. You were mentioning, you eat what you kill, you're 1099, which means you run your own business. They don't hand your leads. They don't give you the assistance. Some of them might, but really, you're responsible for your own business. You just happen to all wear the same jersey, right? So, the one thing is you have to eat what you kill and you just don't have enough time to go and… You're not a technologist to go and say, okay, how do I get my CRM to talk to my email and how do I get my email to talk to this and how do I save time, how do I make sure that all my contacts here are market campaign?
(00:23:32):
So, a lot of automations that you know that even if you gave them everything that they needed, they wouldn't have the time or the time to invest to discover these things. So, a lot of automation is big. One thing that I see a lot of is… How do I explain this one? So, smarter ways on email. So, there's a bunch of these tools. There's been just a bunch of these tools in the past 10 years in the non-real estate side that can be used for real estate. So HubSpot has some of this stuff now, but you have things like outreach.io, you've got things like SalesLoft and PersistIQ, which is what we use here. But essentially. What it is is it's a tool that hooks up to your CRM or you can just use it without a CRM and load context in there, and then basically, it connects to your Outlook or your Google Workspace, your Gmail.
(00:24:34):
And then what you can do is you can create these templates that inject first name, last name and personalized messages and it'll send the email to that prospect, but then you can tell hey, if they don't respond to that email in X amount of days, go back to the original email, reply all so there's context when you follow up and say, hey, Chris, sent you an email about meeting in your office at the Nasty Gal building. I really want to get [inaudible 00:24:58] can do that. And that's to do it at scale. There are some of those rumblings, but I'll tell you, man, what I found out is nobody really asked for technology. I talked to somebody. I'm not going to name him, but everybody knows him on Twitter. So he's on Twitter, on LinkedIn, very active broker, and always on social media, has always embraced stuff. I had a conversation with him on Tuesday and I said, "Hey, man." I had a few minutes, we caught up because we're friends and I said, "Dude, what do you struggle with on a day-to-day basis? What are some of your pain points that you think technology would fix, et cetera?" He couldn't think of a thing.
Chris Rising (00:25:40):
Yeah, [inaudible 00:25:41]-
Andrew Bermudez (00:25:41):
[inaudible 00:25:41] but then you start talking to them about generating clients and getting leads and stuff like that, then he goes, oh yeah, yeah, I need that. So, it's going to be something where I think the landlords really want to get more exposure, but the brokers are constrained by their time and what they can do on their own that it takes an orchestration between the property owners. So, not only landlords but also just owner, user. But it takes this downward pressure from that to adopt different technologies. But I definitely see value in something like having a QR code or having an NFC tag or things that would be simple. How awesome would it be if I walk into one of your buildings, Chris, and all of a sudden, I'm doing a Google search and then all of a sudden, I see this building, hey, check out the space that's available here. And that can all be done automated.
Chris Rising (00:26:33):
Well, yeah, if you're not getting that in our buildings, then I'm frustrated because we do stuff like that. You got to be careful about the geolocating stuff because you want to be somewhat respectful of people's privacy, but a lot of people opt in on this stuff and they don't even know it. But I was going to go back to one thing you said about the broker friend saying he didn't know, and then you started talking about things, you're like, oh, I hadn't thought about that. I think it's amazing how many things out there that we utilize that come from the technology world that we've brought into real estate that other people aren't using and that just helps our business. I mean, people are like, Chris, you are unbelievable and how much [inaudible 00:27:15] you put out there. I'm like, don't you know that's all automated? Yes, I spent all the time to write all the article, our team did and we hired consultants, so we produced all the content, but that's not me sending it out at 2:00 in the morning. And a lot of brokers don't know that. A lot of people in real estate don't understand that.
(00:27:31):
And then because of our communication with investors and the fact that we built our own platform of investors, we use Juniper Square that's tied to HubSpot. We're religious on VTS. We're religious on how we use G Chat and we have all the… Asana is the backbone of our business and we have all these protocols and we produce internal videos. And I started to talk to people on the brokerage side and they're like, wow. I'm like, we just figured it out. And because we figured it out because… I mean, I hate to say this, but we don't want to grow too big as a company. I want to have the same people and have them make more money rather than having to fill it with a bunch of bodies. And so, we're really motivated to do it. And that's what I say to the brokers, I'm like, if you're 30 years old, you could build the business for the next 30 years that is pretty much automated. It really could be, but you got to get out there and do it and you got to use things like Digsy [inaudible 00:28:29].
(00:28:28):
If you are not using a virtual assistant today and you're a broker, I mean, there's… We live by EOS, which is Gino Wickman's Traction Tools. And he has a thing about being the Traction Tool person saying, if it's something that can be done by someone for $25 an hour, you shouldn't be doing it. And you start thinking of it. So, [inaudible 00:28:52] either hire somebody who does it for $25 an hour or you find some way through technology to automate it because it's just not high value use of your time. So, I think it's [inaudible 00:29:01]. And the idea… From accountants, we used to always hire young analysts who would be in our office. Now, we hire nationally because of the way we do things. And this might be a good bridge into talking about office and culture and all. But I mean, we have an analyst in Nashville, we have an analyst in Houston, [inaudible 00:29:25] in LA.
(00:29:26):
I just was with one of my asset managers. We went to dinner because we want to do that once a quarter and all that. And he said to me, "Chris, I haven't seen you since August." I'm like, "What are you talking about? I see you all the time." He's like, "We have this great culture because we all touch base and we come in. But no, you've seen me online." I'm like, "God Jeff, you're right." But I felt like because we talk, we use G Chat, we use Asana, and we use Google Meet, and we have our weekly meetings where we go through our operating system, our internal OS system, I was like, yeah, but his point was, but we need to do this once a month. The reason this works is because we have this trust, because we've known each other a long time, we've been in front of each other a lot. And so, I'm going to segue it over. So, we're the second largest landlord in downtown LA. We just saw in the last week our daily occupancy, if you average it out over five days to hit 50%-
Andrew Bermudez (00:30:25):
Ooh nice.
Chris Rising (00:30:26):
… [inaudible 00:30:27]. It is nice because [inaudible 00:30:28]-
Andrew Bermudez (00:30:28):
It went up to 40% nationwide, so you're up.
Chris Rising (00:30:30):
Yeah. Los Angeles is ahead of San Francisco, San Jose, Manhattan, way behind Austin. Austin's over 60%. But what we're seeing, we are actually seeing some leasing tours, we're signing leasing, things are starting to come back, but the number one thing we hear all the time is it's different. We're going to lease office space, but it's different. Some people are saying different in getting more space, most people are saying difference in getting less space, but it's not how we all start in the business. It's not a five-day a week, 12 to 14-hour job. And then, there's these companies like yours that at some point have said, I think we could do without an office. I'm curious to know how the Digsy experience has gone since you did that and where do you think it's headed. And am I screwed being the second largest landlord in downtown LA? Because people are never coming back to the office.
Andrew Bermudez (00:31:29):
I would talk to the brokers about that because they're touching [inaudible 00:31:32] and-
Chris Rising (00:31:31):
Fortunately, we own a lot of industrial too.
Andrew Bermudez (00:31:33):
They're touching the pavement. They're in the elevators every day. For us, we never decided. And I think when we were exchanging drinks a year ago, I told you this because we've been talking about this for a while, I was completely against remote work. Even when we started Digsy, my co-founder who had recruited from Google, I'm like, "Dude, you have to come out." Because he lived in the Santa Monica area. I'm like, "You have to come out to Orange County twice a week." And even those three days they were going, I was just like, "Dude." It felt like we were in touch but out of reach, and it just didn't feel like a family. But anyway, we had an office for a long time and it wasn't until 18 months passed by where we couldn't go. Our new CTO has family and immunocompromised, so he couldn't come anywhere.
(00:32:28):
We weren't going in the office. I had had just my first child. We had hired so many people offshore that work with US hours. That's critical to work US hours, so our Pacific time that we really started saying, hey, we're paying thousands of dollars for this office. I didn't want to let it go and I just couldn't see any time in the near 8 months to 12 months to do it. And our lease was up, so we just decided to let it go. And we're like, hey, if we need an office, we can just go to the coworking space down the way. So, we actually got a little office at the coworking space so we can have an address and did that, and that's what we have now. One thing that my co-founder did, not the CTO but my other co-founder who did all the product stuff at the time about three years ago, maybe a little bit longer than that, he had started doing this with the engineers, we started doing this on a company-wide, was that on Fridays, we have what's called a wrap up.
(00:33:34):
So basically, 3:00 o'clock hits or 3:30 hits, everybody stops working. This was physical. Physically, we would basically get all in one of the areas where we have a big room and just chitchat and just say, hey, let's talk about your wins for the week. So we go, oh, my win was I got this critical bug fixed, and my win was I was able to land this three new customers, I was able to do this. So, we would chitchat and stuff like that. And then after, we play video games. So, we did that. Obviously, COVID threw that, so we went remote on that. But now, by this time, fast forward, for me, it was like, we're hiring all these people remote, we're not seeing them. Yeah, we're seeing them here, but then that team is growing, so they have their culture, et cetera. How do we keep the company integrated now? How do we keep our sensors to make sure everything's going fine? So, I've been trying to get… Because we use Google Workspace, I've been trying to figure out a way to go to G Chat, but everybody's so into Slack, so we do it on Slack.
Chris Rising (00:34:30):
Yeah, we would not bring Slack and we do G Chat. And I think Workspace has got a good competitive advantage over certain things in Slack, but I think if you get addicted to Slack, it's like any other addiction, it's hard to get away from it.
Andrew Bermudez (00:34:48):
They've announced a couple of features that I think would be critical to bring the people in there. But even, for example, the virtual assistance, their clock bot for them, it's actually when they clock in and they clock out, is actually a Digsy chat bot that pops up.
Chris Rising (00:35:01):
Oh, really?
Andrew Bermudez (00:35:02):
And if they're late, it'll message them, et cetera. So, we developed that internally. So, it makes it easy and that communicates to our system. Anyway, I won't bore you with that. So, I like the Google stuff. Anyway, long story short, what we started doing is we started doing it virtually. So I said, hey, ongoing calendar invite, every week we would do it. And that was when we were about six, seven people. But now, the core team, not the virtual assistants and the photographers and all that, the core team has grown to over 20 people. We're almost 30, so it's become harder and harder. So, one thing that we did is early on, we still did that. Up until recently, we were doing it every week on Friday at that time. So then, we started doing little things just to break in, like not talk about wins. I wanted to make sure that the culture is not all about just doing good.
(00:35:51):
It's like, hey, I'm an entrepreneur, I celebrate failure. What I don't celebrate is running against the same wall 15 times or three times or four times not learning from your mistakes. That's when you're going to be in trouble. And not necessarily in trouble, we're not going to put you on time out, but at the same time, maybe you just not cut out to work at this company. You just have a different culture. One thing is we started celebrating fails like, oh, I sent the wrong contract to somebody or oh my God, I did this other thing. And we started clapping at the fail. And then when we started doing that, you started seeing people loose and people chat. The other thing that we do too, it's not like, we go with you, Chris, and then we go with you, Craig, and then we go with you, Tiffany, and then we go with you, Kate. The person that gets picked first, then they have to pick the other person, so there's banter going on.
(00:36:44):
And one really critical thing, I had heard this saying like, the fish stinks from the head down, is me and Taylor who runs operations, so she runs the company, I'm the CEO, I work very closely with her is we have to make sure that it's fun that people can joke around, work hard, and just have the culture. So when you see Digsy, as a culture, what we really try to do is like, look, you have to be smart, leave people in a better place than they were before with your knowledge, experience, expertise and insights, but at the same time, you have to be witty like, hey we're the punk rockers that are like no business a lot, but at the same time can leave people in a better place because we're leveraging our collective experience. So, it's always about those three things that makes it really fun. So if somebody will do something on even slack every day, people will pop in and say, hey, I'm on, I'm on, I'm on in a certain channel, and then people will welcome people back and then celebrating birthdays on Slack and stuff.
(00:37:45):
We try to get… When we have to figure things out like what you're doing, what we're talking earlier, is just jump on a quick little Google Meet and just hash it out. We'll do a lot of that. One thing that was critical, which sounds like you're doing, is every Monday at 11:00 AM, I have corporate operations meeting with the two people that are involved in that and another department. Then at 1:00 PM, I have a meeting with the head of sales and the sales team. So, we're always meeting and doing that. And then we have to become more a synchronous. So, we found this tool called Notion, where basically we have this one living agenda for operations, we have the one living agenda for that. And as opposed to spinning up new documents, basically, we have these little ways that we can just archive stuff and just do it on that. And it allows you to chat back and forth and do things, but it gives you a lot more than a Google Doc [inaudible 00:38:39].
Chris Rising (00:38:42):
Notion's a good tool. We use basically in the same way we use Traction Tools, which is now going to be called Bloom Growth because every one of our meetings is a form of an EOS meeting.
Andrew Bermudez (00:38:48):
There you go.
Chris Rising (00:38:49):
Yeah. But it's the same thing. It's a consistent agenda that gets updated, and it's identifying issues and communicating, and it's having some consistent meetings. And I think that… I mean, in a virtual world, that's really important, but it's really just replacing what you did in the physical world. You had these certain meetings. I mean, our 8:00 AM Monday meeting for years is now our 12:00 to 2:00 Monday acquisitions meeting where we bring in lunch and you can be virtual or you can come in the office and have lunch. We try to encourage people to come in. But we have a lot of people in other cities, so they're not going to come in for that. But I think what you just hit on is you have these certain dates that work. There's certain meetings that are consistent, but let me ask you, after two years, what do you think is missing from a virtual world and what role does the physical world have in running Digsy as a business?
Andrew Bermudez (00:39:38):
Serendipity. Also, the big challenges that happen, you create a lot more work in certain areas of the business. So, serendipity is one. For example, when we were in an office, I could be trying to fix a problem. Maybe [inaudible 00:39:57] Excel and I'm trying to do this, and then Patrick, who was working at the time, he's an Excel [inaudible 00:40:00], he'd be like, oh, dude, you're over there, let me just take a look at your spreadsheet. He goes, [inaudible 00:40:04] fixes it for me. I don't have to spend a day or reach out, make a phone calls, trying to get ahold of somebody or go on… I don't have time to go on Google and do that, but I have to do it these days. So, there's that inefficiency. Also, developing tighter relationships, seeing how a person works in their own space. I work with Taylor very, very closely.
(00:40:23):
There's only been one time in the past two years, a couple times where we worked next to each other, maybe three or four times. So we know how we work, but you have to be intentional, like just trying to ask a question, you go, am I going to bug this person in the middle of something? So, some people will check other people's calendar. So, there's just a lot of friction. In an office, you can just look and go, oh, she doesn't seem busy. Hey Taylor, you have a moment? Great. Blue or red? Red. Awesome. Boom. Placed the order. So, there's a lot of inefficiencies. But it also creates the… That also is bad because some people don't think that way. We've had to create documents, onboard people in meetings with the whole company and go, guys, it's not okay to just send an email or send a Slack message and do this. If it's an urgent thing, you pick up the phone and you text and you call because you need it now.
Chris Rising (00:41:13):
We have all these things laid out. We've had to. I mean, I feel like sometimes, our business has become McDonald's in the way a franchisee would be given, here's the playbook, this is what we do. And we just had a meeting the other day and I said, "Guys, we're doing it great on Asana" Because we do these videos. We're doing it great on certain other software that we use. But you know what we're not doing well? We're not telling someone, the first day you show up, these are the protocols, this is when you use Gmail, this is where something goes in box. And what I'm finding is it's a lot of… To keep the culture before the… Without the serendipity, which I think is so big because [inaudible 00:41:50] oh, I see someone, I remembered something, It's a lot of extra work to manage people-
Andrew Bermudez (00:41:54):
It's a lot of extra work.
Chris Rising (00:41:55):
… but I think [inaudible 00:41:55] works. It works, but it's a lot of extra work. I'm not thinking about the business deal as much sometimes. I'm thinking about the, how do I make this a cool and effective and efficient place to be?
Andrew Bermudez (00:42:08):
Yeah, it's forced us to A, reflect internally and rethink the way that we operate because the environment's different, right? And also, it's forced us as well to, like things that you normally would, we just have to adjust our whole behavior and our culture. It's actually helped us shape the culture and really think about, that's a nice to have in the culture, but do we really need that? Unless it's urgent, can't we just put it in the agenda for the meeting when we all sync up? So, we've become ruthless because we have less time because things take a lot more longer, because you're all remote that you tend to prioritize and be a lot more ruthless with the things you put in the agenda. Here's the hardest part, everybody comes up with agenda items and then all of a sudden, you come up to that operations meeting on Mondays and everybody's got a bunch of things, so then we've had to learn, okay, together, how do we solve this problem?
Chris Rising (00:43:01):
Do you rank them? That's what we do. We rank them so everybody has a say of what goes first. And if we don't get to everything in the allotted time, that goes to the next week.
Andrew Bermudez (00:43:11):
Yeah. So, we did at the beginning. We stopped ranking everything because that takes time. Let's say there's five people in that meeting and then you have five people ranking stuff, so there goes two hours collectively of people's time that I could have productivity. So what we do now is we basically say, hey, instead of adding it to the agenda, have items in your own separate to-do list. And then before the meeting, let's say on Friday or if you want to do it over the weekend, we don't encourage people to work on the weekend at all, in fact, we tell them not to do that because I don't want my people burning out, that's another thing that I've had to change. And I'll tell you about that because I think that one's going to be critical aside from serendipity is go and look at your list. Don't put it in our list. Go through the ones that you really think that need to be spoken about this week. And then basically, they have their personal backlog and they go, okay, well, we got to talk about the holidays and the holiday party. So, that made in the list.
(00:44:06):
And then if somebody gets put on the list but we're running out of time, we just quickly chat and go, hey. Here's an example for the holiday thing, so we were going to talk about it two weeks ago, hey, we still got a little bit of time, so November's definitely going to affect us, can we put it on the agenda for the following week? So then, we have this section we created in the same Notion doc that's just called next up. And we just move that, we just drag that item there. And then when I put my items in the agenda, we basically look at what's crossed off, if you have any questions, et cetera, and then we collectively at the beginning go, everybody knows that before the meeting, they have to look at their next step items and their things and just be very, very selective as to what we're going to chat about. When people first start at the company, they don't… But you see how much work we're doing just to… Because we're remote.
Chris Rising (00:44:56):
Yeah, that's true.
Andrew Bermudez (00:44:58):
I mean, there's just a lot of churning and filtering and-
Chris Rising (00:45:00):
And you know what you haven't even hit on yet is in every group of people, there's some people who just aren't going to get on board with it, who are just like, we have a rule that you don't forward emails, you just don't. It has to go into Asana. If you're talking to somebody in the outside world, that's fine but internally… And I can't tell you how hard it has been for some people to understand that that's a fireable offense at this company. So, what makes it hard is getting everybody on board. And I want to lead it to this. I think the way you get everybody on board is there's a trust. And I just don't think that you can develop trust if you don't actually physically know people. And so, some people will say that's a reason to have an office. Other people say that's a reason to have a weekly place to meet or that's a reason to have a quarterly event and all of that. How do you look at that trust and getting these creative collisions together physically? Do you think it's important or do you think technology can find ways around it to create that trust?
Andrew Bermudez (00:46:05):
I think when I look at technology, technology just helps as a tool, right? Really, what… I mean, the brush is not the artist, right? So really, we have to trade, we have to think of us as artists and just think of technology as a tool. I have a problem, I need the color blue, but it's not in this palette, so my problem that I'm trying to fix is blue. Can I get another tool that gives me all of these things, all the colors I need to achieve X, right? So, that's the way that I look at technology is a medium, not necessarily the solution itself. It's much more of what we're trying to do. So, the same thing, same problems with emails, right? So, we do forward it to Slack and then we can chat about it. And there's problems with that too. So we keep on learning and iterating, learning and iterating.
(00:46:51):
For us, what I found is as we're developing the culture, which obviously, you guys have had to do, we've had to spend more time thinking about these things and document it and train them to get people onboarded in a cultured, faster because it's challenging to work remotely. And one thing what we see that I've learned is I've had to change my behavior where I would lead and do in-person, especially when we're hiring people. If you're working off at Slack and et cetera because you're not next to me, I can say something to you that in front of my face you would've laughed at, but I say it on Slack, and you think that I just scolded you.
Chris Rising (00:47:33):
Yeah. Yep, yep.
Andrew Bermudez (00:47:34):
So, I've had to adjust the words I use. I've had to adjust saying something and maybe just asking a question, I'm making sure that the question is asked in a certain way Because tech sucks. How many times have you gotten an email and you've been like, what an a-hole, right? But then, they call you up and they go, hey man, did you get that JPEG? And you're like, oh, okay. I guess, he wasn't an a-hole about that. So, a lot of these things have had to change in that sense. Where we're struggling now is… Luckily, I've had to change my behavior. I've had to train, not train, but I've had to lead and be a leader to ops by my own behavior in how I treat them and how do they treat that. Now, what we've had to do is make sure that everybody who's accountable, everybody in a team keeps each other in check. So for example, if let's say the training team, right? [inaudible 00:48:31] new trainer, they go through a process, hey shadow people for a week in different departments, and they start learning the way that we communicate. Let's say that they-
Chris Rising (00:48:39):
How do you shadow, though, in a virtual world? How do you get them? They just join every Google Meet or they're on the same Slack channel and they see it, is that the shadowing?
Andrew Bermudez (00:48:49):
Well, in the office, it would've been like, you go to this person's desk-
Chris Rising (00:48:51):
[inaudible 00:48:52].
Andrew Bermudez (00:48:51):
If you go to this person's desk, et cetera. But when you do Zoom et cetera, you're going to have to spend the time planning it out. So usually, what we'll have to do, depending on how critical and how involved and time-consuming for them to get the experiences, maybe we go, hey, you're going to graphics, you're going to marketing, you're going telemarketing, you're going to the photography side, et cetera, so they'll spend a day and they'll basically be on Zoom, where they'll be shadowing by you sitting here and the individual training is showing their screen and then they're chatting. They basically spend the day together on Zoom or Google Meet, which is what we use. So, they'll do that. Yeah, but it's more time-consuming and you have to do a lot more. It's not like simply you just huddle, hey, does these days work for everybody, et cetera. And you can do that in some apps. You can just do a quick huddle where you can just talk via voice-
Chris Rising (00:49:39):
So, how are you going to do a holiday party if everyone's remote?
Andrew Bermudez (00:49:42):
That's the other thing though too, right? It gets expensive where we might have spent 5, 10 grand on that. Now, you have to think about flying people over, et cetera, and then you also have to think about, okay, is it going to be safe with all the stuff that's happening with Russia and Ukraine, et cetera. So, there's just a lot more things to think about, but you also get the cost savings and the fact that… At least for us, people have been more productive working remotely than not, where the productivity breaks down is where I think… Okay, remote, you can make it work, but as you can say, you really have to put the culture on paper, processes and systems on paper, you have to have a culture how teams talk to each other, hold each other accountable, how they talk to management, et cetera. And we're a flat organization. I always tell people, I don't care if you're the janitor of the company. If you have a question and I'm the person who you think that will have the answer for you, reach out.
(00:50:39):
But we still have hierarchy. You have to have that, right? But we just want to make sure everybody's approached, so I've had to change my language. The managers and the C level people [inaudible 00:50:48] change their language in the way that they approach, where they would've just said one word before, they have to change their language and go, oh, tell me a little bit more about that, right? We've had to have these weekly meetings, which are now monthly. Now, we're going to switch from doing wins to doing games and stuff like that. Today's actually… At 2:00 o'clock, it's going to be our first once a month because the team just got too big. But then what we do is we have to encourage them to have either every two weeks in their individual teams to do that, but we also want them to talk to other parts, so maybe… You just got to do a lot of stuff so people…
(00:51:21):
I mean, essentially, what you're doing is you're doing a bunch of virtual happy hours with people, but we can't just all be on that. That gets to be an expensive meeting, but culture's super important. Now to go back to where I think the office makes sense is if you don't have an office, there's a lot of friction. I'll tell you this. For example, we have that co-working space and every time I want to work with Taylor, or if I want to work with our ops person, or if I want to work with the marketing and the digital people that do all our stuff for me, we have to book the room. We have to go there, God forbid, we have to change and we have to do that, right? Then we have to think about where are we going to go for lunch, et cetera.
(00:52:10):
Technically, we can have lunch there, but it's not like a place where… You're basically asking, it's like me asking you, Chris, can I borrow your kitchen to [inaudible 00:52:20]. There's a lot of orchestration and you're around other people. There are certain things that are sensitive that you may not be able to talk to even if you're in an enclosed room. So, the convenience of just having a place that's yours and being able to walk in, walk out, and set it up the way you need to. I can't go to the coworking space and set up my studio if it's shared. And we don't go there often enough to have our own spot. But maybe it does make sense to do that, But when you got coworking and all that stuff, the markup on the coworking doesn't make sense. I might as well just get my own thousand square foot space or 2000, or 3000, or 5,000, or 10,000.
Chris Rising (00:52:55):
That's where I think a lot of people are going to come back to. I mean, I think you've just hit it. I call it clubhouse. For athletic teams, for the sports teams, they have a complex where people go and they work out, they have nutrition, they have meetings, they have very few people that go into a little office by themselves to get work done because that all gets done in other places. And really, I find a lot of what I've come to realize and I'm comfortable with finally is when I was a young lawyer, I remember working a couple Christmas Eves and I look back, I go, why did I work? I was in the office and my parents were upset I wasn't home for Christmas Eve. That's where everything was, my files were, my books were, the library was there [inaudible 00:53:39]. Now, that's all on my iPhone. So to ask people to come back to do that is ridiculous because you don't need to do work in the office. And I think what you need to be able to do is have camaraderie and creative collisions and ideas and develop trust. I just go back to this all the time. Why would I want to pay rent in the future? It's to develop trust. Part of that is mentorship, part of that is camaraderie. That's why I think there will always be a place for office.
(00:54:08):
How it all evolves, I don't think we've gotten there yet, but one of the things I do want to, because we've been talking for a while, but I want to hit on this because you mentioned it and I feel this a lot. I think pre-COVID, employers were demanding things of people that I look back now that were unreasonable. And what I mean is pre-COVID, it was absolutely expected, you wake up at 5:30 to 6:00 in the morning, the first thing you do is look at your phone and you start working, and then you work, work, work until you get in your car. And then you got in your car and you had to be on calls. Then you were supposed to be in the office by 8:00 and you've just battled traffic. And then you were supposed to be there until 5:00. And then on the way home, you're supposed to be calling. And we were putting these demands on people sometimes very unintentionally, just go-getters wanted to do it. People were burning out, they didn't quite know. And then when they got COVID and you had to stay home, you started saying, well, wow, I didn't have the inconvenience of the travel, I didn't have the inconvenience of this, I didn't have this.
(00:55:05):
And that's why I think there's huge pushback about people going back to the pre-COVID world. So I say it all the time, it's not going to be that way, but it still leads to this. I still get up at 6:00 in the morning. And because I have all this great technology, I can be on VTS and see every project we own and where the leasing is. I can be at Asana and see every project we have as a team. I can be on Google Mail, I can see everything. Unless you can be responsible, it never shuts off. And I think we're going to set ourselves back if employers don't put rules around this stuff. And we're struggling with it because I don't like it when I see an employee say, I'm out of the office for a week or have that response. But that's an old guy's response of saying, I don't like it because if we don't give people the ability to shut off, we're going to have complete burnout because you can literally work 24/7, 365 days a year and never leave a little room. You talked about it. You said you don't like your people working on weekends and all that stuff. That still goes back to culture, right? [inaudible 00:56:07] layoffs start happening, talk about people being scared. So, how do you deal with it?
Andrew Bermudez (00:56:13):
Well, let me tell you this one. So when we first started the first three years of Digsy, we've been around since 2016, so the first three years of Digsy, I came from that mentality. Can you give me one second? I'm going to do that. I'm going to pause it. We'll have to have the editors edit this out. Give me one second.
Chris Rising (00:56:38):
Yeah, yeah. No worries.
Andrew Bermudez (00:56:41):
So I'll continue on here. So, the first three years of Digsy, I was… You met me, right? You said I was persistent.
Chris Rising (00:56:51):
Yeah.
Andrew Bermudez (00:56:51):
I always… Coming from commercial real estate, having been born in Ecuador, moved here when I was 12, I didn't have a penny for my name, it was that hustle that made me successful and enabled me to have cash to at least seed the company. I didn't have friends and family to give me money to at least start pursuing an entrepreneurial journey. So, I came from that mentality of that. And then also, if you know at the time, it wasn't until recently, maybe the past few years, even Silicon Valley [inaudible 00:57:22], the developers, everything's about hustle culture. Even Y Combinator and the accelerators, you wake up early, work until 9:00 PM, grab a bite and do the same the next day. As I got older and more experienced and also having more demands of my time because family and different things that I have to do, I noticed that I was personally starting to get burnt out.
(00:57:47):
And then what I also noticed was that in reading a lot of books and listening to people and seeing that more and more of our generation was coming in, a lot of our employees and our teams were Gen Z, right? And we didn't know enough about Gen Z at this time, but the one thing I said, "Look, if I'm going to be hiring people and I can't pay them as much as another tech company can do, at least what I can do is I can create a really attractive environment for them where they'll be respected." We as a company, in our 90-day meetings with them, we'll ask them where they want to go next and help them to get to the next level and see what we can provide for growth. And also, you can work hard, but at the same time, I know for a fact because every time that we've had to go out and do our financial models and we've had to raise money to see with the personnel, you can hire two people.
(00:58:49):
Let's say you need two people that work eight hours a day full time, you need four people. You don't need two people. There is no 100% productivity, there's no 70% productivity. They work about 40 to 50% of the time because somebody reaches out to them on Slack or even if they're in person, somebody bugs them or they get a phone call, et cetera. So usually, that teaches you and you go, if they're working that long, how can we… Mental health for me is critical. If I treat this person very well and they have nowhere else to go, those people are going to be extremely productive and they're going to have such a loyalty and they're going to be so collaborative as long as we are collaborative. Even for new people, depending on the departments, management never says, we're going to do this. What we want is we want people who are problem-solvers, who are creative in user experience, intelligence and creativity to come things. And basically, what we want them to do is we want them to solve their problems ourselves so we can move and focus in other parts of the business.
(00:59:52):
And just through experimentation, being able to come with that paternal, maternal and really coming from, the thing is we appreciate you work hard, man, but it's past 5:00. If I told you it was urgent, message me tomorrow and please don't do this. I'm going to just have to yell at you. I don't want you to be on my shit list. Go home. A lot of the times, we'll let people just take off early, right? We do this probably three times a week because I see it on Slack, I see what these people are doing, I see the emails, I see how hard they're working. And I'll look at the counters and their project management going, I think it is a good place to stop and I'll message everybody on Slack. I'm going, hey, unless you guys have something pressing, does anybody have something pressing for the rest of the day? And they'll be like, no. Okay, why don't we take off at 2:00? Enjoy your weekend.
Chris Rising (01:00:42):
Yeah. Well, we've basically done all that in our policies by having unlimited PTO, by not giving… We don't have formal work hours anymore. What we just say is if you have a in-person meeting or a Zoom meeting that's scheduled and you know about it in advance, you got to tell us why you wouldn't be there, otherwise… Well, nobody's checking at 2:00 o'clock to see if you're at a doctor's appointment or if you're online. That is not what we're doing.
Andrew Bermudez (01:01:08):
We're not either. I think where it differs though is because you're seeing them message and you're sending an email and somebody response to you, we just say, Look, don't work past 5:00. If you have any issues, you have to go to doctor's appointment or anything like that, we also have unlimited PTO. But the magic though that I figured out is I never wanted people to say, okay, I can take off and work at any time. We do have fixed hours at Digsy. That makes it really easy for us to manage certain parts of the business, not necessarily the person because pretty much, everybody's autonomous and when they haven't been, we learn within two, three weeks and we let them go. Well, unfortunately, the recruiting and the teams do a pretty good job at screening out for the Digsy culture individual be a fit, but what I love doing is effing with people, man. I'm one of those guys that has always loved like-
Chris Rising (01:01:57):
Is that allowed in 2022?
Andrew Bermudez (01:02:01):
I mean, I don't know. I'm one of those guys that loves poking the ribs and teasing a little bit, being a little bit of a troll, but in a positive way. If you don't know that you're going to be able to take off at 1:00 or 2:00 on a Friday, we know we're not getting off because we don't have, let's say, the wrap up where the whole teams or the whole company gets together, I'll be like, hey, how much work do you guys have left to do? Would you be able to take all of your responsibilities for today by 2:00 PM? And people go, yes. And I'll just be like, okay, I was just trying to find out. Let's stay until 7:00. And I'm just messing with them, right? But they don't know when it's coming because I might do it today or Taylor might do it, operations might do it because we chat a lot.
(01:02:49):
And let's say the next week, we just stay the full shift. But it's always these little surprises. But we try to do it more often than that. But it's really hard. I mean, talk about all the stuff that we've had to do to keep the culture up and keep it tied in, it's a lot more work, but people get more work done because we've had to set these protocols and systems in place and really ingrain the culture. For example, on your team, if I had the same situation where the person's not putting that email on Asana, so we can call them back and forth on what to do and they keep missing it, they're going to get written a few times and then we're just going to let them go.
Chris Rising (01:03:24):
Yeah, yeah. I hear you. Well, man, this has been a great conversation. We've gone for a while. Let me just leave it with this, what's your crystal ball on techno… I'm just going to talk about technology. What do you think, if we're talking a year from now, is going to be the biggest change in how we operate a business, how we deal with people? Do you see anything out there that you think might be a game changer?
Andrew Bermudez (01:03:54):
For a business or commercial real estate [inaudible 01:03:56]?
Chris Rising (01:03:56):
Well, just in general. If we look back a year from now, is there something that's [inaudible 01:04:01] going, I think this is going to make a big difference in how we work or how this business operates?
Andrew Bermudez (01:04:06):
I wouldn't say in a year. I definitely think that AR, when somebody cracks the way to actually do augmented reality, I think that's going to be huge for commercial real estate, but I think we're three, maybe five years away from that. What I think it's really going to change is, this is going to go back to commercial real estate [inaudible 01:04:28], there's a lot more of these residential property and finance technologies, FinTech products coming and crossing the chasm or crossing or jumping the fence into commercial real estate. I think one of the big things that's going to be is all of these insured techs/FinTech companies that make it easy for a tenant to put a 10, 20, 30,000 security deposit down or increase security deposit down and basically pay it without having to affect their working capital, I think that's going to make it easier for landlords to get more and more tenants into the buildings and still help the tenant themselves, either working capital to continue to grow the business. I think that's going to be huge because that is guaranteed to the landlord from the insurance or the FinTech company, but then all the tenant does is pay a monthly fee. I think that's going to open up a lot of potential business [inaudible 01:05:28]-
Chris Rising (01:05:29):
[inaudible 01:05:28]. Yeah. You're basically saying that all these FinTech people have been focused on apartments and a lot of people that fund their first month and last month's rent, you think it may come over to commercial real estate [inaudible 01:05:39]-
Andrew Bermudez (01:05:39):
It's already doing it. Yeah. It's already doing it.
Chris Rising (01:05:41):
That's pretty cool.
Andrew Bermudez (01:05:42):
There's a few companies. There's a company called Otso, O-T-S-O.co or.com, and that's what they do. Yeah. In fact, one of my really good friends that I've known since college or actually even high school, he's the owner of The Pizza Press, the whole franchise. He's the owner, the CEO. I would've never thought he would be the owner of that thing, by the way. So, he is there. Him and a broker buddy of mine, who actually, I hired him at Lee & Associates, he's still there, we were on a call and he was asking me, "Hey, I need a solution like this for my franchisees." So I'm like, "Dude, check this out." He's like, "He didn't even know if this existed."
Chris Rising (01:06:17):
Wow.
Andrew Bermudez (01:06:17):
And most landlords [inaudible 01:06:18] existed because think about this, imagine the tenant is on the fence whether to do something like that, and even if it's like 1000, 2000, 3000 square feet, which tends to be a huge chunk of the most multi-tenant buildings, now, you just completely remove that friction and you go, look, you pay them 10, 20 bucks, $300 a month, you keep your working capital, I'm satisfied, you deal with them, sign the lease here, they bail out, and you can even… If I was a landlord and it's a risky deal, I would say, yeah, but I need 3, 4, 5, 6 months security deposit. And it would be such a low fee for them that it doesn't matter. The whole onus is on the insured tech.
Chris Rising (01:06:55):
This was [inaudible 01:06:56] like a true prop deck person. I would've been fine if you told me that my iOS applications were going to catch up to my OS application, but I like where you went with that.
Andrew Bermudez (01:07:09):
Well, it's always good seeing you, Chris. Thank you for this.
Chris Rising (01:07:11):
I enjoyed it, Andrew.
Andrew Bermudez (01:07:12):
We got to do this more often, but I know you're busy with your kids. I'm busy with my family and kids, but we definitely have to make some time to exchange some beverages.
Chris Rising (01:07:21):
I'd love to do it. That's great. Well, we'll do it at the next conference, that's for sure.
Andrew Bermudez (01:07:25):
Okay, cool.
Chris Rising (01:07:26):
All right.
Andrew Bermudez (01:07:27):
Thanks, Chris.
Chris Rising (01:07:27):
Bye, buddy. Thanks.
Andrew Bermudez (01:07:27):
Yeah.
Speaker 1 (01:07:32):
And please don't forget to follow us. We'd really appreciate it if you subscribe to the podcast. You can do that on Apple iTunes or any of the other podcasting services. It's The Real Market with Chris Rising. And follow us on Twitter @ChrisRising or @RisingRP and please follow our blog, chrisrising.com or risingrp.com. Thanks so much.
Speaker 4 (01:07:57):
This episode of The Real Market is brought to you by Rising Investor Platform. The platform provides accredited investors with exclusive real estate investment opportunities on a deal-by-deal basis across various asset classes, including office, industrial, hospitality, multi-family and data. The platform also provides an inside look at deals in our pipeline while giving investors the chance to indicate interest before it's too late. We recently funded our acquisition at 9320 Telstar, a mixed use office industrial property in El Monte, California using our investor platform. To learn more about how accredited investors can join the Rising Investor Platform, please visit risinginvestorplatform.com.