The Real Market with Chris Rising – Ep. 74 Living Legends John Cushman Part 1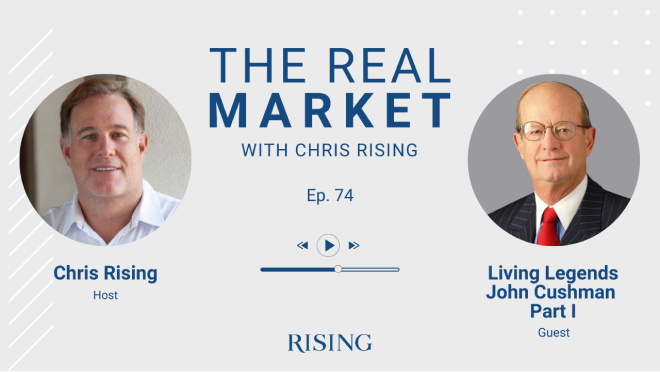 Introducing our esteemed guest, John Cushman, Chairman of Global Transactions at Cushman & Wakefield. With over 50 years of experience, John is a renowned leader in the commercial real estate industry. As the driving force behind Cushman & Wakefield's rise to prominence, he has shaped the company into one of the world's premier real estate firms. Join us as we delve into John's remarkable career, his strategic vision for the industry, and his insights on navigating the global market.
Speaker 1 (00:00:02):
Welcome to The Real Market with Chris Rising, the only podcast that brings the real estate conference panel to your headphones. You'll hear from superstars from every realm of commercial real estate, the biggest brokers, the most well-known architects, the largest investors, and the most visionary developers to learn what they do, how they do it, and what drives their success. We'll discuss the latest trends across regional markets, capital flows, both national and global, and we'll explore technology's role in shaping all of it. We'll take a clear-eyed look at where we've been, where we are now, and what's to come. Real conversations, real experts, real insights. This is The Real Market.
Chris Rising (00:00:51):
Welcome to The Real Market with Chris Rising. I am extraordinarily excited to have my former boss, my mentor, my friend, John Cushman, on The Real Market. It's something I've been hoping to get done over the years, and it's just really exciting to have John here because we're going to talk about a lot of really interesting things. So this format is going to go, we're going to do this over three episodes, and we're going to start today talking about John and how he got started in life, his childhood, the experiences in his life leading up through college, and then through his first stint at Cushman & Wakefield. So, John, thank you for being here on The Real Market.
John Cushman (00:01:34):
Thank you, Chris. I'm delighted to visit with you today. Life's been very exciting.
Chris Rising (00:01:41):
That's terrific. Well, I have to imagine that when you started out in life, nobody… When you're young, you didn't really think about what it meant to be named John Clydesdale Cushman III. But that's a big name to start off the world with and you grew up in New Jersey, big connections to New York City. Tell me a little bit about growing up; and I think everybody knows the legend of triple sticks, of John Cushman and where you're at today, but I don't know if a lot of people have really focused on how did it all start for you in the world in the '50s and '60s?
John Cushman (00:02:21):
Well, I grew up in a medium-sized town, Montclair, New Jersey, 14 miles from New York City. It was a commuter town. Many businesses worked in midtown or downtown, they either took the bus or the train, and the ferry boat if they were in Lower Manhattan. So I grew up in a family that, obviously, was real estate focused. As a young boy, I was always focused on entrepreneurial activity as it relates to everything. I mean, I was a young boy who figured out how to take care of the family chores and make money shoveling snow, raking leaves, cutting lawns, and all those instincts that I had when I was a young boy have really stayed with me my whole career.
John Cushman (00:03:31):
I've always been interested in innovation and how to dare to be different and how to take risks. Growing up, we had a close-knit family. I have a fraternal twin brother, Lou Cushman, who's the vice chairman of Cushman & Wakefield in Houston, Texas; a younger brother David, who is seven years younger, lives in California. David has retired from business. My twin brother, Lou, is still involved and has done everything you can possibly do in real estate in Houston.
John Cushman (00:04:20):
It was a close-knit family. I didn't grow up in what I thought was a wealthy family. I thought we were okay. We lived in a nice house, not a big house, on a quiet street, and Montclair was a very diverse town, way more diverse than my four sons' experience growing up in San Marino, California, because we had every ethnic situation in Montclair. I experienced those things that everyone wants to talk about today in the world with diversity, inclusion, and collaboration.
John Cushman (00:05:19):
I didn't know anything different, because that's how it was in Montclair. It was a town where I went to a public school, Montclair High School, and it was a great school. In that school, you had to do well in your schoolwork, play sports, and for many,  join Troop 12, which was my local scout troop. So I participated in sports. My twin brother, Lou, was a better student. He's was a better athlete. But I figured out how to stay in the game. We're very close and are still close. Obviously, growing up, we had our disagreements and we had some real fights. I'm not talking about just disagreement where it ended up poorly for both of us, because my mother ruled the house. We paid the price for the fights and the trouble we caused. But if I had to do it again, I don't think I'd changed much of anything.
Chris Rising (00:06:42):
At what point in your youth and when you were starting the Boy Scouts, did you start to recognize that your name had meaning? Because you're a third, which means your grandfather and your father bear the same name. But it's also, and was at the time, a name of a very recognizable real estate company in Manhattan. So when did you start to say, "Wow, maybe my family's had some success," or at least a notoriety that other kids didn't have?
John Cushman (00:07:12):
Well, it was very interesting because I guess I was genetically disposed to go into real estate because our family's involvement in real estate went way back. Actually, way before Cushman & Wakefield. So I knew that back in the 1600s, my ancestor, Robert "The Puritan" Cushman, was the agent for the Plymouth Colony. This is not a true story, but I tell it like it is. People say, "Well, how did you get in real estate?" I say, "Well, we got into it, because Robert "The Puritan" Cushman actually leased the Mayflower, the little ship that sailed to Plymouth from Holland." So there is no truth to that statement but it's a good way to start.
John Cushman (00:08:13):
Then, following the Mayflower in the 1600s was D.A. Cushman Realty, founded by Don Alonzo Cushman who in the mid-1800s was a very successful merchant who became a significant real estate developer like you. He lived in Chelsea and developed most of Chelsea with his partner, Clement Moore. Clement Moore wrote the song A Night Before Christmas. They developed most of the land in New York City, in Chelsea, from 10th Avenue towards the river, close to the river, and then from 17th all the way to 22nd, 23rd Street. It was a gigantic piece of land, a very hot place to live today. I have no idea what it would be worth today, but we lost all of it, except one building, in the depression.
John Cushman (00:09:30):
So the next chapter of the family in real estate is Cushman & Wakefield. So my grandfather, Jo Clydesdale Cushman, and Bernard Wakefield, my great uncle. They married sister, people didn't realize that, and they both lived where I grew up in Montclair, New Jersey; both Bernard Wakefield and Clyde Cushman. So, he was born in the 1880s and started Cushman & Wakefield in 1917, and it's been a great journey. But I do remember as a teenager that real estate was an important focus of the family because my grandfather loved having myself and my twin brother, Lou, come to real estate events and go to the 281 Madison Ave. office in New York.
John Cushman (00:10:39):
So as a young man, I admired my grandfather. I thought he was unbelievable. He was a very handsome guy with a mustache and a double-breasted suit, and he actually was asked to be the man of distinction on the Schenley liquor bottle. Of course, he pretended like that was terrible, but I know he thought that was great, but he didn't, of course, do it. So at an early age, before I was out of high school, I've been to nine national conventions of BOMA, Building Owners and Managers Association with my parents and my twin brother was the international president worldwide. So we would have family gatherings all the time at my grandfather's house, and I always thought he was just a remarkable and very special man.
John Cushman (00:11:48):
He lived like a head of state in a beautiful home. He wasn't as wealthy as the way he lived, not by a longshot. But my guess is Cushman & Wakefield paid for much of those costs. So he had chauffeurs and butlers and maids and cooks, and it was always a great experience to go there on Thanksgiving, Easter, every holiday. Because I lived in Montclair, New Jersey, grew up there. He lived in Upper Montclair. So it was maybe 10 minutes and it was a great town, and I knew that Cushman & Wakefield was a company of great credibility and substance.
John Cushman (00:12:41):
I did at an early age think maybe I would like to do what my grandfather did, but not what my father did because my father didn't like his job at Cushman & Wakefield. He was in charge of all the management and today, of course, that's a big deal, because Cushman & Wakefield manages 4.8 billion square feet across the world, every product type, and my father was in charge of management. But he never liked the company. He disliked immensely the CEO. He owned 25% after my grandfather died in 1955. He lived to play golf. He was very bright, but he wasn't a marketing guy at all. My mother ran the family and my mother was the entrepreneur.
Chris Rising (00:13:50):
John, some of the legendary stories about your grandfather had to do with the United Nations. One of my favorite books is the Zeckendorf book about his autobiography, and they talk about putting together the land for the United Nations. Can you give us any stories on how, because that certainly took deal-making that I know you possess, but very few people probably at the time, to put together those parcels in New York City for the United Nations.
John Cushman (00:14:26):
Well, that was a very large, and to this day, important transaction. I wasn't aware of that actually until I read about it some years later. When I joined the firm, I read about all the history, but he was very involved in that. He also had a significant involvement in the Seagram Building, one of the most iconic buildings in New York at 375 Park Avenue. The one big difference between my grandfather and my father and me is that my grandfather loved building management. I never really cared for it that much. In my career, I've been involved with it, obviously at Cushman & Wakefield, as the global chairman, and then when I started my company, Cushman Realty. But I never really liked it.
John Cushman (00:15:26):
I liked the transactional side of real estate. I liked the transactional challenges and complexities. So, for me, I grew up at the dinner table where we talk about real estate. My father would rather talk about golf. My mother was really an entrepreneur and ran the family, and real estate was early a part of my life, way earlier than most people. I was pretty sure that I might like to be involved somehow at Cushman & Wakefield doing something involving selling.
Chris Rising (00:16:15):
Well, part of your youth, I know, also dealt with the important role that the Boy Scouts played. I've said this many times that some of the most impressive people I know were Eagle Scouts, and the discipline that it takes to achieve that rank. I know in your life you felt the Boy Scouts were really important. You've donated significantly to the organization. You've been a leader as they've tried to get through all the issues that came up. But as you look at it, where you sit today in your life, what would you say about Troop 12 and all the influence and all the… They had some really spectacular leaders there. Maybe tell us a little bit about Troop 12 and the influence that had in your life.
John Cushman (00:17:01):
Well as a young boy growing up, I said, you had to do well in school at Montclair High School, play sports, and join Troop 12. I didn't know anything about scouts when I joined, and when I joined, I was pretty small. My twin brother, Lou, was a lot bigger than me. It bothered me a lot that I was so little, and I didn't think I'd ever get bigger. But I joined Troop 12 and the scoutmaster was, by far, one of the most important people in my life. He was the scoutmaster of the troop for 50 years. He had every award you could get in the world with the Boy Scouts of America. We had quite a troop.
John Cushman (00:17:52):
Buzz Aldrin, the astronaut, the first person to land on the moon, was in my troop. Robert Trent Jones, Jr. was the patrol leader of the Seal Patrol, and I was the assistant patrol leader. Reese L. Jones, the golf architect, was in my troop. Many of those people that I grew up with in scouting are still close friends of mine to this day, very close friend. Scouting has had a very big impact on my life. I've learned a great deal about leadership, teamwork, and so on. Scoutings in a rough mode right now.
John Cushman (00:18:42):
I've had every job in the Boy Scouts. I was the chairman of the Los Angeles Area Council, and that was a wonderful experience. I didn't want the job. I was just active in my troop and they eventually asked me to join the board. I have never been on a board where I wasn't committed, totally committed and caring about the mission. So I went from Troop 12 as a young boy to LA when my sons were ready to go into scouts, they're all Eagle Scouts. I'm an Eagle Scout, my twin brother's an Eagle Scout. I have three grandsons that are Eagle Scouts, two granddaughters that are going to be Eagle Scouts in the next 12 months. So scouting has been a big part of life in the Cushman Family. I went from the LA area council to be president of the western region, and that was a great experience because I got very close to the LDS Church, where I had 400,000 Mormon, young people under my wing.
John Cushman (00:20:10):
And then, I went on to join the National Board of Boy Scouts in Irving, Texas and joined the National Board, I had every job from being the treasurer to eventually being the National president of the Boy Scouts of America. So, what impacted my life was the scout's commitment to doing the right thing, doing a good turn daily, being respectful, the Scout Oath and the Scout Law. I can repeat every aspect of the Scout Oath and law. And I always like to have fun with people. And I asked him about how many points in the compass and they say four, North, East, South and West. I say no, there's 36 points. How about if you tell me what they are? And of course, I love to do that just for conversation. So, scouting has been very important. Now, it's a very difficult situation as the bankruptcy continues to unfold.
Chris Rising (00:21:22):
Yeah. Well, I know that I've been fortunate to have, I was not an Eagle Scout. I took the sports early, but I've been around it. And I've watched partly when I worked for you, watched your dedication to it. And as I said, some of the most impressive people I know are Eagle Scouts. So, as you were going through that process, you get to be an Eagle Scout in high school, you started looking at where you might go to college and what your career path was going to be. I know you're very proud of your alma mater, who did very well in the NCAA tournament.
John Cushman (00:21:56):
Yes.
Chris Rising (00:21:57):
But tell us about how you went from Montclair High School to Colgate?
John Cushman (00:22:01):
Well, in my town at my high school, there was a very big commitment from Montclair High School with Colgate University. And some of the most admired athletes that were before me at Montclair went to Colgate. I went, and my family was an Amherst family, Amherst College. And my father went there, my twin brother went there. And my father wanted me to go there. It's the last place I wanted to go. Because I kind of cruised through high school and I took a lot of shortcuts that I paid a price for in college, but I got in. I knew I didn't want to go to Amherst. And I thought Colgate was great. I grew up in the snow in Montclair. And I knew Colgate would be a long winter.
John Cushman (00:23:06):
But I went there, I had a great experience. I was starting out, I was amongst the worst students in the university. As a matter of fact, when I sold my house recently in Pasadena, I found all my report cards. And I looked at them, I was horrified because they were terrible. You went on to the Advanced Management Program at Harvard and all that stuff. I had a rough first year, because I cruised through high school and I paid a dear price. My twin brother Lou was smarter than I was. And so, he had graduated cum laude, as it was.
John Cushman (00:23:54):
After my first semester, I told my parents, "I wasn't sure that college was right for me." And I worked till 2:00 a.m. My first semester did not do well. I got lousy grades. I worked even harder the second semester and I got worse grades. And so, what happened was, I learned what I should have done in high school by the end of one painful year. And by my second year, I had good marks. I was eventually able to get on the Dean's list. I was an economics major. I actually didn't like my major at all. I didn't like the professors. And my minor was in fine arts. And I was really enthralled by architecture. And I had a professor and I just couldn't wait to attend classes. And I was very involved in buildings and the history of covered bridges and stave churches in Norway.
John Cushman (00:25:18):
And so, Colgate was good to me. I was in a great fraternity. We had nine captains of nine varsity athletic teams. We're a small, all men school with 900. We played football against Army, Navy, Penn State and Syracuse. Syracuse was ranked number one in America. And I used to tell people, they had more people in the band than we had in the school. That wasn't true. But I was trying to make the point. And so, I went on, and had a great experience. I've been close to my college classmates and fraternity brothers. I meet with them every year. I was in Florida for the last three days for a close friend who was one of my fraternity brothers for a celebration of life. Sadly, he died of Agent Orange fighting in Vietnam. But we've all been very close.
John Cushman (00:26:33):
I was then asked to join the board of trustees after I get out of Colgate. And I was the youngest trustee and the school was founded in 1819. And I was on the board 13 years. I missed only one meeting in 13 years. And it had a very big impact on me. I believe in education. I believe if we're lucky enough in life to do well, we have an obligation to give back. And I've done that all my life.
Chris Rising (00:27:09):
Yes, you have John. And it's some of the things you've done has been very vocal, your name on buildings, but I've also watched you do a lot of things that no one will ever know and being generous to people. And so, I take that lesson from you as well. Let me ask you this. So, when you were in your later years of college, when did it start coming together that you wanted to go to C&W. I don't want to go totally into the beginning of C&W because there's a trip to Cuba I want to cover. But when you were in college, when you were taking your econ classes did you start to say, "Okay, I can transfer this into a career in real estate at Cushman & Wakefield." Or were there other steps in the road before you decided to do that?
John Cushman (00:27:53):
Well, I had a roommate for three years at Colgate who I just left in Fort Myer, Florida two days ago and we were there for this celebration of life. And he reminded me when I was in Florida that I had told him in my fraternity house that that I was really mad and upset at how poorly my father was treated. And I wanted to go to Cushman & Wakefield and rise to the top. I had no right to say that, but that's how I felt because I watched my father get pummeled. And so, I didn't really know because of any educational or academic part of my life, that I wanted to go into real estate and wanted to go to Cushman & Wakefield. But I did know, I absolutely knew, because those years when I was at Colgate, I saw how unhappy my father was and how distraught he was about his career.
John Cushman (00:29:25):
I don't think if he looked back on it, he would have had much to say that he was proud of working there. I was proud of him. But he disliked immensely the CEO. And my roommate knew and reminded me as I just said, that I knew I wanted to join the company. I had a bad chip on my shoulder, which I realized soon after I got into business, I'd better get rid of that chip on my shoulder because I can't beat everybody. I can beat some people, some of the time. But I can't be all of the people all of the time. So, my belief that I wanted to go in real estate probably was, at least the last two years at Colgate University was a real desire on my part. I didn't know what I wanted to do precisely, but I knew what a broker was. And I thought I wanted to be a broker.
Chris Rising (00:30:32):
Interesting. So, as you got towards graduation, and I know over the years I've heard about this famous trip to Cuba, I think I'd love the audience to hear it because not many people can say that they met a young Fidel Castro. So, can you tell us a little bit about how you and your brother got a chance to get to Cuba?
John Cushman (00:30:53):
Yes, my parents had close friends who lived in Fort Lauderdale and they owned a motel. And they had two absolutely beautiful daughters. And Lou and I had the opportunity to go to Fort Lauderdale. And we had driven down and we were with these gals and had lots of fun. And before, I left home for Florida in high school, by the end of our high school in my junior year, my father said, "Go have a great time. Get it out of your system and don't do anything stupid, like go to Cuba." And I didn't think anything of it when he said it. Fort Lauderdale was this great place.
John Cushman (00:31:51):
And after we'd been on the beach 10 days or whatever, I said to Lou, "What do you think dad meant about that?" I said, "Let's just look into it." And we found out for $27, we can buy a round trip ticket to Havana, Cuba. So, we went. We didn't have any money to speak of, hardly anything. And we were in a low-end hotel, really low end. But we knew we wouldn't meet interesting people there. So, we went to the best hotel, Havana Hilton. And we were in the lobby and all of a sudden there was a gigantic commotion. And all this motorcade of Oldsmobile's pulled up and we didn't know what was happening. And there were all these people with machine guns in the lobby, a large contingent of security. And it turned out it was Fidel Castro. We didn't know right away who it was.
John Cushman (00:33:01):
But then, we realized and we went up the stairs where he was going to meet with a group of young lawyers, American lawyers. Remember, he was very controversial because he was a young guy who took over from Batista. And he met with his lawyers and we went upstairs and we somehow got tangled up with his security detail and Fidel Castro. So, we spent quite a bit of time with him in the kitchen. And this was a big deal for the cooks and the security details would literally reach into a big pot and pull out a chicken and eat it, the chicken leg and eat the leg right there. And somebody wanted to get a picture, one of Fidel Castro's people wanted to get a picture with us, with my twin brother Lou and myself.
John Cushman (00:34:09):
So, we had lots of pictures with Fidel Castro and his security detail. He would put his arms around both of us. And then we were pictures done. The guards wanted to get into security detail. So, we were the subject of lots of pictures. And it was a fantastic experience. We managed to speak to him in poor Spanish. My brother Lou was better than I was, but I took Spanish in high school and college and we were able to converse. He could speak English. But it was a fascinating experience. And of course, when we got back to Florida, we called my parents and they couldn't believe it. They were excited. They forgot they said it was a bad idea. And the picture ended up on the front page of the Montclair Times, which was the local paper, a big picture on the front page.
John Cushman (00:35:13):
And so, everybody asked us about it. And as it was, it impacted my life negatively. Because after I had got out of college, I had to go in the military. And I wanted to go in Army Intelligence. And that thing was a bit of a problem because of the Castro meeting. And I wanted to get into the service quickly because I was subject to the draft and I was low number, soon to be target. So, I tried and tried to get into army intelligence. I eventually  got a clearance, to get in army intelligence, but by then I had joined the US Coast Guard.
Chris Rising (00:36:17):
That's terrific. Well, when you went to the Coast Guard, you were full time in the Coast Guard Reserve. At what point were you able to start your career and the one thing you said you want to go to Cushman & Wakefield and do all these things. How did you ultimately go from the Coast Guard to getting hired at Cushman & Wakefield?
John Cushman (00:36:38):
Well, before all of that, I left Colgate. I graduated from Colgate, a wonderful experience. I then went immediately to my twin brother Lou's graduation at Amherst. But I had a job because I had a fraternity brother, whose father was the president of MW Kellogg Espanola. And they were a big global contractor. So, I had a job as an expat in Spain, on the Riviera. So, I left my brother's graduation. I flew to Madrid and flew to Malaga, Spain. So my roommate and I went together. And we had a fantastic life. If I could relive that, I would put everything on pause and go back. It was amongst the best experience I ever had.
John Cushman (00:37:49):
I worked in Malaga, Spain. And I lived in Torremolinos. We were expats and we were paid at the lowest end of the scale. But a dollar went a very long way in Spain, and we had a black car and a driver and a Spanish paper. And I said to my roommate, "You know, this isn't that great a deal. We're not going to meet any women with this car." And so, we got rid of the car and I bought a motorcycle, which I realized was, it was exciting for a brief period of my life. Then I realized how dangerous it was. But we had a great life on the Spanish Riviera. We looked under the water, I can see Gibraltar. I was north of Gibraltar and looked out towards Africa. And it was really exciting.
John Cushman (00:38:52):
That's when the Riviera was wild. It wasn't built up, and every night, I would go out to dinner at about 11:00 and I'd come home from work. I worked six days a week and I come home and I'd go to the beach. And it was an embarrassing situation because when I left home, I had grown up and my mother did our laundry and she wrote Cushman in the back of all my boxer shorts and T shirts. So, when I took my motorcycle afterwards, down to the beach and pass this square and we had two maids, my roommate and I did. We never cleaned our room and four years in college, but we had two maids and I was so embarrassed because I go by the square down by the beach where they had a fountain and the maids were cleaning my boxer shorts and pounding my shorts with rocks, that's how they cleaned my clothes, with rocks, and then go to the beach and swim, come home and go to bed, and then get up to go to dinner and have fun.
John Cushman (00:40:10):
And then, I'd go every morning, early to work on the motorcycle to Malaga, Spain. And then what happened is, I had this job, I didn't know anything about my job. But I was in charge of a cement mixer. I had 17 people, Portuguese, Spanish, all these very low paid, but wonderful people. And I was in charge of the cement mixer. And I had 17 guys on my crew. And my job was to make sure when they put aggregate and water, they actually added the cement because if it didn't have cement, the foundation was going to fall down. So, I would pour the foundations and then I would test on every pour of the cement. I would test it at seven days, 14, 21, and 28 days with a compression machine and record for the engineers whether the pour was acceptable.
John Cushman (00:41:32):
And I realized when I left home, my father said a little bit like the story about Cuba. He said, "I know you got to get this out of your system. And he said don't do anything stupid like go to Africa." I never gave any consideration until one day with the job. One of my employees was Portuguese and he said, "You know what? When you're done this job, you should go to Angola and go with my brother, who's a game warden in Angola on a safari." So, I said, "Wow, that sounds like pretty interesting." So, I sent my money that I earned as an expat in Angola. And my next chapter of my life was going to Africa, which was an incredible experience.
Chris Rising (00:42:31):
How many shots did you have to get back then to go to Africa?
John Cushman (00:42:35):
I didn't have to get any. But what happened is, I left Malaga, flew to Lisbon, Portugal, and Interpol wouldn't let me go on a ship to Angola, because it was a warzone. There was a terrible war. And the natives were eating people and it was very bad. So, I was 22 years old. And they couldn't figure out why or what this young guy was going to do in Africa. And so, they wouldn't let me out of Lisbon. Eventually, they held me up for three weeks. Then I was able to get on a ship from Lisbon to Luanda, Portugal. It was 3500 miles. And I traveled a thousand miles south of the equator.
John Cushman (00:43:52):
And because I had run out of money, I had sort of a bad experience, because the only ticket I could afford to buy for the ship was fourth class steerage. So, I was below the waterline, there were no portholes. And I was in a cabin with 11 people, terrible ventilation, and a rooster. And I knew I didn't have any good clothes. And I realized this was going to be a long three weeks if I had to live down there. So, I learned how to sneak up to first class. And I met really great people. And it was a more interesting trip because the president of Portugal was Admiral Américo Tomás. And he was on board. So, we had warships who would accompany us from time to time and fighter jets. So, it was really exciting.
John Cushman (00:45:04):
And I went to Africa. And when I got there, I had to go from Moçâmedes, way south of the equator, into the bush 400, maybe a very long distance, 400 plus mile. And there, I was supposed to meet the game warden. I never met him. I've gone all this distance, I said, "What am I going to do?" So, I met a mechanic and a dentist and they invited me to go on a safari. I did what I wanted to do. And I was gone for a long time. And my share of that trip was $40. That was my share of ammunition. All we had was a gigantic jug, maybe three feet high and a woven basket full of cheap, lousy wine. We had bread. And we had lots of five-gallon cans of gasoline everywhere on this Jeep we went in. It was an extended jeep, long range gasoline. And we had one native who spoke the language.
John Cushman (00:46:29):
And it was an experience that was super dangerous. I came out of it alive. I took immense risks, ridiculous risks. And after that, the special course was over and I didn't get eaten by a lion or bitten by a snake. I saw lots of very incredible things in the jungle. It was not a jungle, heavy, green, it was dry with elephants, ostrich, snakes, everything. And when we were hungry, we'd shoot an animal or bird and eat it. So, it was never a question about food. There were birds you could choose to eat like Guinea. And so, it was pretty exciting. I came home. And the first thing I did is I went to a wedding of great friend of mine on the day that John F. Kennedy was killed. So, it was a somber event. And I met my wife Jeanine. And she didn't know what to make of me because she thought I was not telling the truth about having lived in the jungle. And because I went immediately from there to this wedding.
John Cushman (00:48:04):
And then, I joined Cushman & Wakefield in 1963. And that was the beginning of a, of course, my father was still there, but being pushed out. And he was a very angry man. And I was upset. And I got over that because as I said I had to get over it. But that's how I started at Cushman & Wakefield.
Chris Rising (00:48:39):
So, in 1963, you started at Cushman & Wakefield. Did you go through the process to get a sales license, broker's license? I mean, did you start with sweeping the floors at Cushman & Wakefield? When you came in, what was the role?
John Cushman (00:48:54):
Well, I had one job previously in New York. To the chagrin of my family, I was a union elevator operator in the local 32BJ union. I was an elevator operator at 521 Fifth Avenue, which in a building right next to the office that I started in. They had a connecting lobby. My first job was 529 Fifth. And next door is where I started my career as an elevator operator, and that was incredibly, I couldn't believe how well paid it was to be in the union. So, I had a very interesting experience. I mean, not a career experience, but I met fascinating people like Larry Silverstein.
Chris Rising (00:49:46):
Oh wow.
John Cushman (00:49:46):
He rode my elevator every day. And I know Larry who's still active in real estate in New York, very, still active.
Chris Rising (00:49:58):
And Los Angeles, the owner of US Bank Tower.
John Cushman (00:50:02):
You bet. So, when I started at Cushman & Wakefield, no, I wasn't a broker. I took the license, which was a ridiculous salesman's license, like California, it was all about selling houses and selling with a residential real estate. So, I passed that. And I was assigned as the most junior member on the floor, on the 5th floor at 529 Fifth. And I reported theoretically to a senior vice president. And I was in a row of desks and there was me, a guy behind me, and then a secretary who ran the roost, she was in charge. And then across me was another row of three people. And the top person behind me, his name is Jay Jacques Jonker, an elderly gentleman 00:50:57].
John Cushman (00:50:57):
And I ended up working my first job at a 51 Madison Avenue. Now, it's a great location at the New York Life building. Nobody at the company wanted to work there. It was Park Avenue South then. Now, it's very fashionable. It was the headquarters of New York Life, a beautiful building. And Cushman & Wakefield was the leasing agent. I didn't know anything. I had no training. Nobody taught me what to do. I learned by making immense mistakes every day.
John Cushman (00:51:42):
And my job was to canvass down in that neighborhood. And I reported to a senior VP, who all he wanted to do was have me find tenants deals and he collected all the money. And I got paid $75 a week, I realized I couldn't live on it. And so, I moved back home to Montclair, rode the bus. And what I would do every day was the same. Every day I do the same thing. I would go to this part of Madison Avenue, down 28th Street, and go to every building on the top floor. Remember, there was no security in 1963. None. You got in, you walked in the lobby, got in the elevator, went to the top floor. I entered every door searching for prospective tenants.
John Cushman (00:52:51):
So, I'd start on the top floor and say that I was wanting to talk to them about moving to this great building 51 Madison Avenue, beautiful building. And I had little three by five cards. And I would write down the date, the time point, who I met with, and what I learned. And I turned out I had hundreds and hundreds of cards. And I realized this was hopeless. And what I would do is I would call on, I would try to get past the receptionist to meet the president or the general manager, whoever ran the office. And most times, they would throw me out. And I never got anywhere, but I developed a kind of a spiel that eventually worked. And I remember that I was talking to this the South African company and I got by the receptionists and met the president who wasn't happy with his space.
John Cushman (00:54:04):
So, I had arranged for him to meet me. And I'll remember one of my first early major mistakes. Those were the days when the office buildings had radiators. And there was an enclosure over the radiator. And I had learned that there were air induction systems with the two-pipe system on the exterior. So, I was telling this, I got this guy to come and tour this space. It's a great building. And nobody wanted to work down there but this guy was interested. And I told him all about the air conditioning system. And he went over to this enclosure and moved it. It was incredibly embarrassing for me because it had nothing, it was an old radiator. And so, I made mistakes every day and I'd go back to the office, and I would try to call people to see if they were interested in moving to 51 Madison Ave. Canvassing was a way of life. I did it every day and still do, but the approach today is very different.
Chris Rising (00:55:17):
And back then, were you only doing it to try to bring any tenants to your building? Or could you then also find tenants that you could represent and take them to other buildings?
John Cushman (00:55:29):
My job was to find tenants for the New York Life building in 51 Madison Avenue. But the bottom line is, I did find some other tenants. So, when I would report to the Senior VP, he said, "Oh, good work, John." He'd follow up. And I remember after I finalized a lease with a South African company, I didn't know what a blue slip was. It was what you filled out for your commission. And I didn't know how to do it. So, a friend of mine helped me fill it out. And then I went in, where it had to put the splits. And he put down 90% for himself, 10 for me. And I didn't know whether that was good or bad. And when I told my friend who helped me fill it out, he said, "You just got hosed." So, I learned. It was a very competitive environment in New York.
John Cushman (00:56:25):
So, when I found tenants who wanted to move somewhere else, I didn't know how to do it. But I learned and I learned quickly. So, my first year wasn't too productive. But I had a plan for myself. And the plan was that by the time I was 30, remember I'm 22, 23 going on 23. By the time I'm 30, I wanted to be independent, in terms of financially independent, which I was fortunate enough to have happen. But the real estate brokerage, I eventually allowed me to get away from that 51 Madison Avenue assignment, and I did transactions in other buildings, and had every year was way better than the year before. And then of course, the next stop was California.
Chris Rising (00:57:22):
Well, as we lead into California and talk about your time there, is there any lesson that you learned about canvassing that you think has been critical to your success. I mean, I know when I was working with you, you would often get frustrated if young brokers came in, and they weren't willing to canvass and but maybe you could talk about what were some of those gritty lessons you learned when you walk in buildings and people throw you out?
John Cushman (00:57:51):
Well, I learned that if you want to be a broker and you want to be involved with marketing and sales, everything I did in those years, is still relevant to this day. It's just different. Instead of knocking on the door, you can't get on the elevator at any building, hardly, maybe smaller suburban buildings. But all these buildings now have security and you have to have a card key access. So, the bottom line of it is as that I learned in LA, that I was able to canvas when I got there initially, that was no problem. You could walk in any building.
John Cushman (00:58:38):
But as I as the business change. And today, 2022, I would still canvass by calling people on the phone. And if I had one word to describe my good luck in business, one word, it would be relationships, one word. And I learned about relationships, because the experience in New York was not a game changer. I did well. I had the experience with the military, which was really fantastic. I love the Coast Guard. But what I learned about marketing, I would still do to this day, I would just do it in a different format. I would call somebody. If I wanted to get to a company, I would study the company. I would read the SEC filings. I would read their proxy, their 10k the 10Q and the annual reports. I made some really good money in my life by doing that.
John Cushman (00:59:55):
And so, to this day, I would if I had to see a company and I didn't know the company, I would study the board of directors. And I would usually be able to figure out a way in that way. And if I didn't, I'd figure out who is their bank? Who is their accounting firm? Who is their law firm? And then, who were their clients? And I would say, the success rate on that process was north of 90%. You can always figure out a way in if you took those steps. And so, you know it because you and I worked hand in hand for quite a few years.
John Cushman (01:00:43):
And so, I would say, I also found in early in my career, that young people used to not want to work on little transactions. I worked on little transactions and big transactions. And I remember at Cushman & Wakefield, when I started out in LA, I wanted to win the award every year for the smallest transaction. I want it every year. I would get the award for leasing AT&T, a storage closet, month to month. But I remember talking to the other brokers when I got to California, and I had a chance to represent the Ford Motors Car Company. It was 5,000 feet. And the other people said it's a waste of time. I said, "No, it's not a waste of time." I'll figure out how to work that relationship through the board, which I know could open doors in every direction. So, I think the young people, if you're an owner, developer, an institution, real estate service company like CBRE, JLL, Cushman & Wakefield, Newmark, you have to canvas. It's just, I guess, we would say it's a different type of canvassing, but it's absolutely alive and well.
Chris Rising (01:02:20):
I agree. So, let's talk about, I mean, you have this well recognized name, you're working in New York, started a young family. How did the concept of moving to Los Angeles even come up and what was the process that brought you out here?
John Cushman (01:02:38):
That was one of the more interesting chapters in my life. Because Cushman & Wakefield had successfully been involved with the development as a consultant of the Bank of America building in San Francisco, at 555 Market. And because of that and other relationships, Cushman & Wakefield H.Q. was asked to be involved with the development in LA. This was the development of the Richfield Oil company that was acquired by Atlantic and Bank of America. And they needed to have a major presence in downtown LA.
John Cushman (01:03:26):
So, as it turned out, I realized the course I was on in New York, would take me at least five if not 10 years, to get where I want it. And because those senior VPs and senior officers own the accounts, and everybody claimed they own the business. And so, what happened was, Cushman & Wakefield had a broker that I competed with all the time, my whole career. They asked him first. He was older than I was, and very successful in New York. He didn't want to leave. So, they asked me. So, I came home and I told Jeanine. We lived in a in a little apartment in Montclair. I said they've offered me an opportunity to move to California and I'm going to open the first office in Southern California. As it turned out, I didn't know one person. I had done one deal a few years earlier for Reuben H. Donnelley, an industrial deal, but I didn't know anybody. I didn't know, LA, I had been there once. And when I was in high school with my grandfather to a BOMA International Convention.
John Cushman (01:04:54):
So, I said to Jeanine, who didn't like New Jersey, she didn't like Montclair. She was a schoolteacher in Verona, New Jersey. Well, it was a good place for me, but she didn't like it. So, when I raised the possibility, she said yes. So, we never owned a home. I think we paid very little for our apartment. And we moved to California, to LA, and I moved to Pasadena. I had never owned a house, I was terrified, because I paid 50,000 for the house. But I had no idea how I was going to pay the mortgage. And incidentally, to put it all in perspective, the interest rate I paid was 6%. I actually sold the house at a loss for 46,000. That was on Oak Knoll by the Huntington Hotel. And it was a wonderful house. As it turned out, I was able to pay the mortgage.
John Cushman (01:06:08):
So, I opened the office. It was in the old Douglas Oil building on the corner of Fifth and Flower. Nobody knows it because it was demolished. It was part of the site for the Atlantic Richfield Plaza. And we had space in the Douglas Oil building. And it turned out that I was first in the office, I was the first hire. Another guy was hired who was in charge of finance. I was in charge of leasing. And another guy was in charge of construction. The guy who was in charge of finance thought he was in charge of everyone. I didn't know whether I was in charge. I didn't like him too much and I liked the construction guy. So, we had a battle from the minute we met. I didn't care for his style.
John Cushman (01:07:09):
And now, I'm in charge of the leasing and there was no doubt about that. And Atlantis Richfield Plaza was 4.3 million gross feet. I was 26 years old. This was a joint development of Atlantic Richfield, Bank of America, and Cushman & Wakefield. B of A owned 48%, ARCO 148%, and Cushman & Wakefield owned four. Cushman & Wakefield was the leasing agent. That was my responsibility. The managing agent, and the developer, we were the actual developer. The construction guy was a good guy, the finance guy had come from MassMutual. So, we have we were at each other's throats for years. But it was a fascinating experience because Arco Plaza was 2.6 million rentable square feet, 2.2, 118,000 rentable, 252 storey towers, and 225,000 feet of space, below grade for retail.
Chris Rising (01:08:31):
How much of it were was going to be leased by the two companies ARCO and BofA out of the gate? So, therefore, how much was left for you to lease to third parties?
John Cushman (01:08:45):
ARCO committed to 200,000 in the north tower. BofA committed to 400,000 in the south tower. So, we had 2 million feet, almost at one point, let's say it was about a million. 700,800,000 feet to lease. It was the most space available to lease in any building ever built in the world and I am sure that BofA wondered whether this 26-year-old guy knew what he was doing and could lease it. I had a lot of confidence in myself. I didn't worry about the finance guy or the construction guy. It's 1967, it's going to be 4 years before it's open. And my job was to find the tenants. It was by far the most important milestone event in my I life, because I had to find those tenants. And my focus was on the office space.
John Cushman (01:10:10):
And I found that every day, in the beginning, I would go to the architect, which was both the architect and the engineer. And they were a very powerful family in Southern California, Albert C. Martin and Associates. And I decided since the building wouldn't be done, that part of every day, I would go to the architect's office, and learn about structural steel and learn about drywall and learn about electrical and mechanical. So, it was like going to college. And I did it every day. And I listened. I didn't ask questions. I made copious notes. So, to this day, I can tell you how many tons of steel, what the steel cost, how many panes of glass, how big was the glass? How tall was the building? And so, it was a great experience.
John Cushman (01:11:18):
And what I would do is I would go every day, I had to go to Bank of America. And the Southern California Office was on Spring Street. And I would walk from my office in the Douglas Oil building to Springs Street and meet with two executive vice presidents and a senior VP. I learned so much from these people, and they were so, they had a dramatic positive impact on my career. Because as the biggest bank in the world, they can open any door. It was a semi- blue-collar bank, and security Pacific National Bank was the establishment bank for the big fancy families and fancy companies.
John Cushman (01:12:09):
But B of A, because they were the biggest bank can open any door. And I would walk and I would meet with these people, including the chairman of the board. His name was Louis B. Lundborg. When he was in town, and I said to myself, "What a lucky guy I am. I'm 26. I meet every day, five days a week with the heads of the Bank of America in Southern California. " And the chairman of the board, every one of them, became my friends and help me and introduced me to people where to this day, I couldn't open that door, but they opened it. They opened it wide. And we got a lot of those tenants to move.
John Cushman (01:12:54):
And then I would canvass everywhere, every building because remember, no security, no card keys and ARCO was run by an executive VP. He was heir apparent to be the CEO and I became very close with him. Eventually, he got forced out but I became especially close to the Chairman of the Board of ARCO who was one of the mentors in my life, along with my Scoutmaster, OK Taylor, and his name was Robert O. Anderson. He was the CEO of ARCO. He was the most important company in Southern California. And he had a senior officer named Paul Snyder. And I worked, well in the early days, I worked with the ARCO representatives, and I'd meet with them and it was a company that owned the project called Flower Treat Limited and for until '71 when we were done, I met with them all the time every week.
John Cushman (01:14:13):
And when it was done, of course, we moved from we had to demolish the Douglas Oil building. Then I moved to 612 South Flower, which is now a multifamily project. Then we moved to the 22nd floor of the North Tower of ARCO Plaza. And I was with Cushman & Wakefield and eventually took on other responsibilities.
Chris Rising (01:14:48):
Well, as you were looking at Los Angeles that time, just to put it in perspective for people at that time, '67, the Union Bank building on the freeway was built and maybe 333 South Hope, but your project was the most talked about. I'm sure ridiculed by some because there's so much empty space set right between the Jonathan Club and the California Club. I mean, this was a big-time assignment that you took on. Did that cause blowback back in New York when people started to see some success? And how did it change the relationship with the headquarters office in New York City, to what you were doing here in Los Angeles?
John Cushman (01:15:33):
It caused tremendous blowback for some. And as it was, it was immensely wonderful experience for me, because between Bank of America and ARCO, I met everyone. And AC Martin sponsored me to join the Jonathan Club. They also then sponsored me to join the California Club. And they sponsored me to join Annandale Golf Club in Pasadena. So, I was pretty well anchored because of that great relationship with the Martin family. And we had so much success with ARCO Plaza, that it was a big deal. And I shared the commissions with a senior VP in New York and the CEO who liked me a lot. But that was the one my father did not like. And he got to like me and my wife, and he liked pitting me against that guy in New York who disliked me immensely.
John Cushman (01:16:49):
So, because it was so successful, and we made so much money. Remember, when we opened, we're also managing the project. And that was a big deal. So, it was the most looked at deal in the world, not just LA or New York. There was nothing that big in New York. The biggest building in New York was the Pan Am Building. And the Pan Am Building was now MetLife building a 200 par with 2,420,000 feet, which had 1,700,000 square feet, and we had more space to lease than they had in that building. And Cushman & Wakefield was the managing agent for that building as well.
John Cushman (01:17:36):
But the blowback was serious. So, this guy tried to sow bad things about me in New York. The CEO favored me and together we made a lot of money. And because I was doing well, that guy that started out in the finance side in LA, I jumped over him and I jumped over the construction guy, I was absolutely in charge. I was given responsibility for 60% of all the offices Cushman & Wakefield had in America. And I had that responsibility until they decided that I needed to go to the Harvard Business School and get polished up. And if I was going to be considered to be president, remember the guy in New York, the one broker, and we competed for decades against each other. And I was able to deal with him, but it was never friendly.
John Cushman (01:18:52):
And so, they sent me to Harvard. And I was at a class with 162 people. And remember now the Rockefeller family owns C+W. There are a few steps between when I started my career to Rockefeller. It went, RCA, Rockefeller, Mitsubishi and, and then the Italians and then of course, now, Texas, Pacific, Ontario teachers, and PAG in Asia. So, they send me to Harvard. I was the youngest guy in a class of 162. Two women and think three or four generals. That's when Harvard tolerated the military.
John Cushman (01:19:53):
And Cushman & Wakefield to this day doesn't know how great it was for me because they had to pay my salary, pay Harvard a lot of money, pay my bonus, and my living expenses in Boston. And when I came home, I wasn't polished and I quit. I quit. I went to Harvard and '77, I quit in April, on April Fool's '78. And that was the beginning of another chapter. But I learned so much at Harvard. And I learned so much at Cushman & Wakefield. So, every one of these chapters in my life was a significant climb on the learning curve.
Chris Rising (01:20:54):
That's terrific. We're going to go in the second episode to talk about Cushman Realty Corporation, which started on April 1st '78. But as we wrap up here, this has been such an engaging conversation. But I know that our listeners, a lot of young brokers, who are companies that, it seemed like old names, you and I know they're not CBRE and Newmark and C&W, and JLL. But there was, back in the day, there was Coldwell Banker out here.
Chris Rising (01:21:26):
In this episode, I'd love for you to tell the audience what was your favorite deal that you did up until 1978? What was either career defining or something that you took on the California brokerage firm on and one, what was your favorite deal in those years?
John Cushman (01:21:46):
Well, Chris, there were actually a lot of favorite deals. I negotiated the lease with B of A and ARCO. But obviously, I wasn't compensated on those. And I would say doing the transaction with Boeing, I won't get into Merrill Lynch because that was a Cushman Realty. But Boeing was right on the edge between Cushman & Wakefield and Cushman Realty. So, I would say it was not the biggest lease of my life. But there were a lot of favorites. And I would say the Boeing lease, moving the world headquarters from Seattle, and looking at multiple cities in America to Chicago would have been one. It was a huge transaction.
John Cushman (01:22:56):
And then I Oh, I forgot to mention that. I owned a winery that I have been in the business for 50 years. It has not been a challenging pursuit, but I've been in it. And because of that, I met a lot of interesting people. Because the person that ran ARCO on the ARCO Plaza transaction was named Louis M. Ream. He was heir apparent to become the CEO of ARCO. He got crosswise with Robert O. Anderson and was fired. He bought a few thousand acres in San Ynez Valley. And he called me up after he had been terminated and said, "John, do you want to invest in this new venture of mine.?" So, I said, "Well, what is it going to be about?" He said, "Well, I want you to buy a vineyard."
John Cushman (01:24:10):
So, I had done well at Cushman & Wakefield. I had the money. I told Jeanine we are the luckiest people in the world because the venture eventually went into vertical integration. And on the board of Zaca Mesa Winery, which today I own 100%, was the CEO of TRW was a fabulous company that no young people know about today because it's gone. And the chairman of Amoco in Chicago, gigantic energy company, and the President of the Standard Oil Company in Cleveland.
John Cushman (01:24:54):
So, to answer your question, I met the president of Standard Oil and had a board meeting of the winery. He told me about this problem they were having in San Francisco. So, I said, "Wait a minute, let me understand." So, he gave me the name of a guy to call. I called him up. And I got my first assignment to lease just under a half a million feet with Shorenstein in San Francisco. Then he said, "You know, we're having a problem in Cleveland. Maybe you can help."
John Cushman (01:25:41):
So, I was retained by the Board of Directors of Standard Oil Company and I assembled the land for a new H.Q. building in Cleveland through various cloak and dagger entities, and then negotiated a lease with Thomas Klutznick out of Chicago, Miller Davis and Klutznick negotiated a transaction for million feet. So that was a big deal. But there were so many big deals. I represented ARCO in Dallas for 1,100,000 feet at Thanksgiving square that I represented. There are so many stories of transactions that are vivid in my mind to this day.
Chris Rising (01:26:49):
We're going to talk a lot more about some of those transactions when we cover the Cushman Realty Corporation, which I was fortunate to work with you there. And then, in our last episode, we'll go through how you "slow down," which you didn't at all when you sold the Cushman & Wakefield in the last 20 years or so doing that. But this has been such a great opportunity to talk with you, John. I think our audience is going to be awed by some of these stories. And hopefully, it'll give us enough time, we'll get together in another week or so. And we'll put together the Cushman Realty years and then we'll end with the C&W years. But John, thanks for your time, this has been fantastic.
John Cushman (01:27:32):
Thanks Chris, for a great discussion with you. Thank you.
Chris Rising (01:27:37):
Awesome. We'll talk to you soon, John. Thanks.
John Cushman (01:27:39):
Thank you.
Chris Rising (01:27:42):
And please don't forget to follow us. We'd really appreciate if you subscribe to the podcast. You can do that on Apple, iTunes, or any of the other podcasting services. It's the Real Market with Chris Rising. And follow us on Twitter at Chris Rising or @risingRP and please follow our blog, chrisrising.com or risingrp.com Thanks so much.
Speaker 4 (01:28:06):
This episode of the Real Market is brought to you by Rising Investor platform. The platform provides accredited investors with exclusive real estate investment opportunities on a deal by deal basis across various asset classes, including office, industrial, hospitality, multifamily, and data. The platform also provides an inside look at deals in our pipeline while giving investors the chance to indicate interest before it's too late. We recently funded our acquisition of 9320 Telstar, a mixed-use office industrial property in El Monte, California using our investor platform. To learn more about how accredited investors can join the rising investor platform, please visit risinginvestorplatform.com.