The Real Market With Chris Rising – Ep. 49 Nelson Rising Part III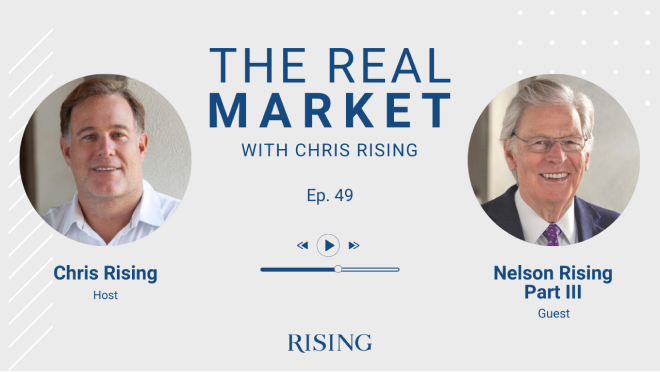 On this episode of The Real Market Podcast, we have the honor of hosting Nelson Rising, a true titan in the real estate industry. With over 40 years of experience, Nelson is the Cofounder and Chairman of Rising Realty Partners, LP, and has led two major publicly traded real estate companies. He's known for his instrumental role in building iconic buildings and new communities, including Mission Bay in San Francisco. Join us as we delve into his vast expertise and gain valuable insights into the world of real estate.
Chris Rising (00:02): Welcome to the Real Market with Chris Rising, the only podcast that brings the real estate conference panel to your headphones. You'll hear from superstars from every realm of commercial real estate, the biggest brokers, the most well-known architects, the largest investors and the most visionary developers. Learn what they do, how they do it and what drives their success. We'll discuss the latest trends across regional markets, capital flows, both national and global, and we'll explore technology's role in shaping all of it. We'll take a clear eyed look where we've been, where we are now and what's to come. Real conversations. Real experts. Real insights. This is the Real Market.
Chris Rising (01:23): So Dad, we've talked a lot about your second stint at Maguire and we were there through 2011 and end of 2011, we decided to start Rising Realty Partners 2.0, what do you remember about end of 2011 and 2012 and what was your thinking when we started really Rising Realty Partners full go?
Nelson Rising (01:45): Well, I was very excited first of all about having the opportunity for us to work together again. The building we purchased, three buildings and it was your idea to do it and I was inspired.
Chris Rising (01:59): Well, when you think about it, I mean, we're coming off all the blood letting that was going on with the overlevered assets we had at Maguire. We were looking at buying a building in 2012 that was about 50% lease that had asbestos and lead paint. I mean, we didn't really choose the easiest asset to start the business with. What did you see about Pacific Mutual Building because that's what it was called at the time? What was your take on buying a 1930s era asset that was tired and old and really like a B minus in the market?
Nelson Rising (02:33): Well, it was a B minus in the market, but the character of the building was an A. And I remember when we had a number of [inaudible 00:02:44] stock exchange there and when I was practicing law, I walk right by it almost every day. And so, it caught my eye then.
Chris Rising (02:56): Well, we did a few things differently than a lot of other people and we were one of the first to take out the drop ceiling and expose the concrete and the brick walls. Did you really think that plan was going to work?
Nelson Rising (03:07): Yes, as we looked through it with the interior architects, I was more and more persuaded that that would work because that would open up the ceilings, open up the volume of the space. And then your idea about not having offices but having desks where people could work and be able to communicate with each other. We have conference rooms in the like and it was a great idea.
Chris Rising (03:39): So the first tenant that we signed, which was Nasty Gal, you remember our discussion when the concept of having building top signage came up?
Nelson Rising (03:50): Yeah, that's right. When we decided to sign a lease with them, I said, "Chris, I'm not going to put Nasty Gal on that ceiling, on the roof of the building."
Chris Rising (04:01): No, we did not. We did give them a button in their own private elevator. But other than that, we did not. And do you remember the other discussion about dogs in the building and we were the first building in downtown LA to have dogs?
Nelson Rising (04:13): I remember that conversation and it was a great idea of yours to have them. I would have said that even if it didn't work.
Chris Rising (04:23): Well, one of the things that I think we're both proud of is the idea that we had the oldest building to have a lead platinum certification. And can you talk a little bit about why you think lead certification is important?
Nelson Rising (04:38): Well, I think it's important for a variety of reasons. One of which is that pension funds who put a big source of capital are very interested in doing things that are publicly responsible. And so, that was a very good thing for us. And we had a public money coming in.
Chris Rising (04:57): And as we were going through the machinations of really, a two to three year process, we had a hedge fund partner originally and then we were fortunate enough to be in business with our friends at Lionstone who brought UC Regents as an investor. Do you remember when Glenn Lowenstein came into our office at Maguire wanting to buy Lantana and that relationship? What are your thoughts on Lionstone as a partner?
Nelson Rising (05:28): Well first of all, I think it's a terrific partner. They are real terrific partner. They're bright and intelligent, straightforward, honest and I couldn't be happier with any partner.
Chris Rising (05:41): Do you remember that day when Glenn came in to buy Lantana? We had that amazingly awful construction loan on the South campus and we just needed someone who was going to close. And do you remember he came into our office there?
Nelson Rising (05:55): Yeah, I do indeed.
Chris Rising (05:56): And he did everything he said he was going to do.
Nelson Rising (05:58): That's right. That's a very important thing.
Chris Rising (06:00): And they're now our partner here at our new offices at The Trust but we'll get into that. So after we bought PacMutual and we recapitalized it, we bought a portfolio that was known as the countrywide portfolio. I think after all this time we can now be a little more public about it, but talk about how we were able to buy 10 assets off market from Bank of America.
Nelson Rising (06:25): Well the person who was running that part of Bank of America, I knew very well and I was running Catellus in San Francisco and they were very concerned that they have a partner who they can trust to not go to the press immediately and so forth. And we didn't. And I don't know how many times you turned down calls from the press, I probably turned down a dozen, but I think, I mean it was a great decision. Some wonderful assets, particularly what we have in Calabasas, the property we had in Simi Valley and then a lot of smaller buildings that-
Nelson Rising (07:11): We bought 10 assets and eight of them, we negotiated longer term leases, five years or more and two of them, we did shorter term leases. Sold off eight within 18 months. We've now gone through a whole iteration out at what's now called the Park Calabasas. Went from [inaudible 00:07:32] being in it for two years, moving out, having it, the repositioning take about 18 months to two years and we're about to be fully leased, a hundred percent leased. That's quite a project. And then we've got 400 National or we've entitled 400 hotel rooms and about 200 residential units. And we're close to exiting on that. But I think at the end of the day, that was a play that our relationships were there. But really it was a lot about your credibility. Talk about what it took to build that relationship with Ron Sturzenegger and our relationship with the bank. I mean, they were in real trouble because B of A bought Cantera at the top of the market and these assets they wanted to get out of.
Nelson Rising (08:18): Well when I was Chair at the Catellus, we were the largest real estate borrower in the state of California from Bank of America. And they had a good experience with us and we had a good experience with them. And so when they wanted to do this thing in a way that didn't cause panic and some sequence in the banking business, we were the ideal partner.
Chris Rising (08:46): It is important to know that the overall sales was not that we got anything special out of it, it was just below a level and they had done some marketing processes and at this point they went to a couple of people, it wasn't just us, but we were able to execute under the terms that they wanted.
Nelson Rising (09:01): And the Calabasas building was the former headquarters of Lockheed. And in that building in the basement was a bomb shelter when Reagan was President and he was up in the Santa Barbara area and so it had a little history.
Chris Rising (09:20): It does. So Dad, part of this portfolio that we bought from Countrywide also included some entitlement and you got to get your hands dirty again and get out there and talk to everybody. Can you talk a little bit about what the entitlement process we went through on 400 National out in Simi Valley?
Nelson Rising (09:40): Well that was a real challenge. That was a real challenge because there was a great disagreement on the board amongst the board members. But we worked our way through it and we ended up getting, what they wanted is they wanted office there, but there was no demand for office. And so, we then looked at a hotel and we looked at the idea of doing some retail and the proximity to the Reagan Library was very attractive for potential hotel operator. And it was very close to the two. It's a great piece of property there, but Simi Valley is not a great office park.
Chris Rising (10:23): And when we looked at it, it sits up on a hill, very beautiful view out from the hill, it kind of overlooks the freeway instead of looking right at it. But what in your experience, what did it make you think of and you talk with Bill Fain, we used Johnson Fain to come up with the land plan. What was the concept that we were trying to put together up there?
Nelson Rising (10:46): Well, the first thing we were trying to do is get to yes amongst the city council people. And there were some very strong opinions there. It wasn't I guess, it wasn't very harmonious group. But we had someone who was very close to the mayor for other deals and that was very helpful. And so bit by bit, I would sit down with the powers that be and convince them that we know what we're doing. And so the day we kind of got over the hump was when we took them out to see Playa Vista.
Chris Rising (11:31): And what about Playa Vista? Did you think we'd get a vision for what Simi Valley could be?
Nelson Rising (11:37): Well basically first of all, it's so much larger than what Simi Valley could be, but it does demonstrate that we know what we're doing. And we're not going to be in there and let them down. And so that was a very, very productive trip. And the guy at the next council meeting, he said, "Nelson, I'm so glad you suggested I go out to Playa Vista."
Chris Rising (11:59): So after we did the Bank of America portfolio, we started looking around Los Angeles. We've done several deals here. We bought a project in Pasadena and we brought the first co-work into Pasadena as well as the first fiber to old town Pasadena. And then we also bought the Park DTLA, which is the only office campus in downtown LA. We've been trying to be as creative as possible on that one and it looks a little bit like a Google campus. But then we had the opportunity with our friends at Lionstone and our partners at Industry Partners to buy what was then called One Bunker Hill. Then that's really one of your favorites I know. Can you talk a little bit about us acquiring that and what the vision was and what we were trying to create at what is now known as CalEdison?
Nelson Rising (12:48): CalEdison is a magnificent building, the little lobby, takes your breath away. The high ceilings, excellent design, it's right next to the Library Tower, right across the street from Gas Company Tower and a short walk to the Cal Club and the Central Library so it's an ideal location.
Chris Rising (13:08): And what about the vision for igniting the lobby and taking off the greenhouses that a developer in the '80s put on?
Nelson Rising (13:15): Yes.
Chris Rising (13:15): You want to talk a little bit about what we were thinking there?
Nelson Rising (13:18): Yes, indeed. There are balconies that were going up the building and it just got awful, they just looked awful. And they weren't consistent along with the original design. And so there was one architectural firm decided to come down here in that building. We talked about that.
Chris Rising (13:38): Talk a little bit about bringing … You knew John Jordy going back a long time and they were based in Venice and I think this was one of our most important gets for that project was to convince them that downtown LA makes sense.
Nelson Rising (13:52): And their reason to wanting to come downtown was because the price of housing in Venice was so high, they couldn't afford the architects.
Chris Rising (14:01): That's true. And they like to say, "Half the circle of their employment circle were fish when you're in Venice," right on the water. And then, here we are sitting in a building that's pretty special to you and we're pleased to announce that we've gotten our occupancy permit and we are now housed at The Trust Building at 433 South Spring Street, the original home of Title Guarantee and Trust, which was created by the law firm O'Melveny and Myers, the first trust company and escrow company here in Los Angeles. And a place that 1966, you did your summer between second and third year of law school, you did an internship here at O'Melveny.
Nelson Rising (14:46): Indeed, I did.
Chris Rising (14:47): We'll talk a little bit about what it means to move back into this building to have your office on the seventh floor where you spent that summer and what you think about the historic core and where we are. Well, maybe why don't you give a little bit of the history of South Spring Street and then talk about your experience here with O'Melveny.
Nelson Rising (15:05): Well in '66, there was no 110 Freeway, so that if you were typical stock exchange, you were on Spring Street. If you were a major accounting firm, you're on Spring Street. If you were a major law firm, you're on Spring Street. And then when the freeway came in, people started to migrate to the West and there was a period of time when this was not the desirable place to be, but being on Spring Street, we're very close to city hall, we're very close to the County Hall of Administration. And so there were those virtues and those value at that time. But then moving further West is when this area started to deteriorate.
Chris Rising (15:46): We'll talk a little bit about your vision for what it is today.
Nelson Rising (15:49): Well, this is a grand location and there are a number of buildings going up. As far as I can see, there are hotels going up, there are restaurants going up, there are condos going up and this is really going to be a 24 hours community.
Chris Rising (16:08): So here you sit in the seventh floor office here at The Trust Building, you're 78 years old. We've talked a lot about your career in real estate, your career in politics. What's your take on on the next 10, 15, 20 years?
Nelson Rising (16:27): Well, maybe 30 years. The idea of what we're building here at Rising Realty Partners and you being the CEO of it, me being the Chairman of it, it is a joy of my life.